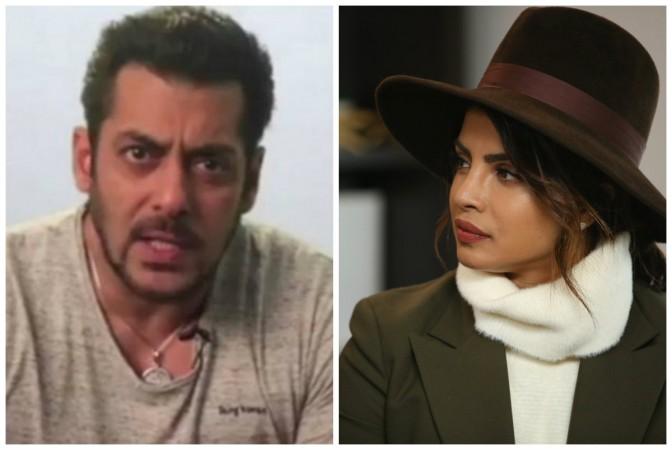 Bollywood superstar Salman Khan has refused to talk about actress Priyanka Chopra after she made sudden exit from his upcoming movie Bharat.
Salman Khan was present at the trailer launch of Loveratri in Mumbai. Loveratri is his production where he is introducing his son-in-law Ayush Sharma into Bollywood. Ayush Sharma is married to Salman's sister Arpita Khan Sharma and they have a young son Ahil.
At the Loveratri trailer launch at a Mumbai multiplex, when Salman Khan was asked about the controversial exit of actress Priyanka Chopra from his ambitious film Bharat, he was unfazed.
Refusing to get embroiled in a fresh controversy about the incident, Salman said, "I've not been reading the newspapers for the past three-four days. I have been busy... When I do read, I will call (the media) and answer your questions."
Smartly pushing the question aside, Salman Khan showed that he has moved on from the Priyanka Chopra incident. In any case, Salman's ex-girlfriend and good friend Katrina Kaif quickly replaced Priyanka Chopra in Bharat.
Watch the video of Salman Khan's reaction to the question on Priyanka Chopra and Bharat!
The Quantico actress had communicated her exit from Bharat days before the unit was supposed to shoot a song for the film in Mumbai. The film's director, Ali Abbas Zafar had announced her decision on Twitter, giving a hint that she will soon be engaged to American singer Nick Jonas and hence her decision to quit the film.
Now rumours are rife that Priyanka Chopra is already engaged to Nick Jonas and will, in fact, be getting married to him in September. That will be before the wedding of her once bestie Deepika Padukone to Ranveer Singh at the end of the year!
It seems Salman Khan is still the only person in Bollywood to remain single or have never married!
Meanwhile, the Loveratri trailer has been well received. The movie stars Ayush Sharma and Warina Hussain. It is directed by Abhiraj Minawala and is produced by Salman Khan Films. Salman Khan tweeted about the trailer with its YouTube link, saying, "Loveratri - Yeh kahaani hai pyaar aur mohabbat ki! Aapke liye..."