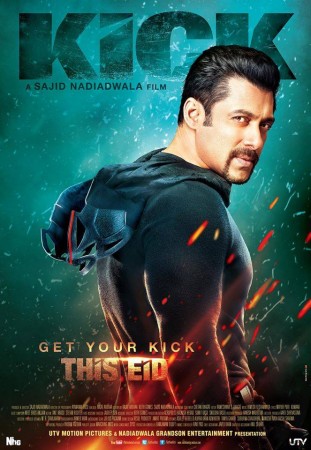 During one of the promotional events of "Kick", there was apparently a scuffle between Salman Khan's security guards and photographers at the venue.
The argument was a result of Khan not posing for the cameras from a certain spot, say reports. The actor, reportedly, reacted to the episode and said those interested in covering the event, were welcome, and the rest could leave if they wished to.
Khan's statement urged the photographers to ban him. But the star, according to the Press Trust of India, made a clear comment saying both parties are at a loss.
Known for a unique sense of humour, Khan laughed the incident off on Twitter. "this is wat I call a stand, the photographers r gonna loose out on wrk, but hv still taken a decision not to take my pics, happy fr them," he posted on the micro-blogging site.
"At least there are some people, who have taken a stand whether it is right or wrong is a different thing. It is their loss and even my loss in this thing," Khan told PTI, when asked about the ban. "If they think, we cannot to do without them or if they think we are there because of them then it is not true."
"This has to be checked. We stand there because, they are working hard. They have to make money (as well) as they have family," he added.
The actor also went on to say that he would appreciate it if every photographer stops taking his pictures. "Even after getting pictures, the photographers keep waiting and clicking photos. Also, I would be happy, if the whole fraternity says we will not take his pictures. I would be really happy," Salman told PTI.
Salman Khan's upcoming movie "Kick" is set to release on 25 July. The Sajid Nadiadwala debut directorial also stars Jacqueline Fernandez, Randeep Hooda and Nawazuddin Siddiqui in pivotal roles.