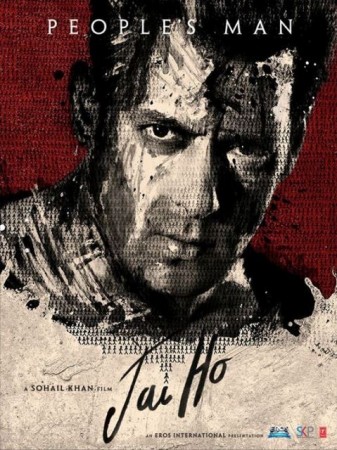 Superstar Salman Khan seems to have put his painting skills on display yet again.
The actor's upcoming film "Jai Ho"s first poster was recently revealed and featured a canvas effect on a red background. Unlike the clichéd loud and garish posters, "Jai Ho" poster with the tagline 'People's Man' had numerous stick men in reference to the masses
Now the superstar has revealed that the poster was created out of his own painting.
"Maine paint kiya, aapne click kiya and Friday ko we made the poster. (I painted it, you clicked it and on Friday we made the poster.)," wrote Salman on social networking sites. He also attached the film's digital poster along with the post on Monday.
The font of the words "Jai Ho" on the poster is also said to be in the actor's handwriting.
Salman's knack for painting is pretty well known and the star has also gifted the pieces of art to his friends. But this is the first time that his painting has also been used as the film's poster.
Along with the digital poster on his Facebook page, Salman is also heard saying a dialogue. "Agar aap logo ko aisa lgta ha, ki hum logo ne aap par koi ehsan kia ha to, aap thank you mat kahiye, instead teen logo ki madad kijiye aap. (If you people think we have done you a favour, don't say thank you, instead help three people)." Along with it, the elements of the poster appear in bits and gradually builds into the full picture.
Here's a look at the digital avatar of Salman Khan's "Jai Ho" to be released on January 24 next year.