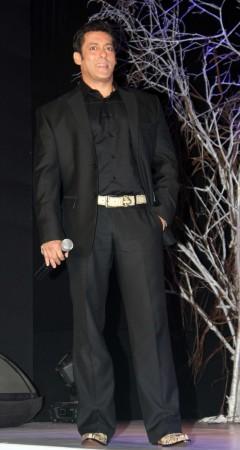 Superstar Salamn Khan will soon be seen in your living room, as the television reality show 'Bigg Boss' is set to go live on Sunday.
The 47-year-old, who is set to reprise his role as the host of the show for the fourth consecutive year, recently opened up on the speculations around his remuneration, his take on the show, and the success of Shah Rukh Khan's latest film, Chennai Express.
'Kam hai... figure kam hai, jyaada charge kar raha hoon' (The figure is less, I am charging more)," he told Press Trust of India (PTI) when asked about speculations that he earned Rs 5 crore per episode from 'Bigg Boss'.
The superstar, however seemed skeptic of his role as the host which actually is the major draw for the show's TRP other than the colourful celebrity contestants.
"As a host at times things bother me on the sets. And I am forced to take a stand, and I hate it. I don't like to take a stand," he told IANS.
"If I say something to someone, that guy has the right to give it back. It's a difficult situation in which I am. It's a difficult position to be in. So far we have been able to handle it."
The actor's admission gave a flashback of the ugly-name calling episode in 'Bigg Boss' Season 6 when celebrity contestant Sapna Bhavnani lashed out at Salman calling him a 'woman-beater'.
"Though it's not my job to control them (contestants) on the show, I do it so that the blame should not come on me. If I don't stop them from behaving badly then people will think that I promote such behaviour. In normal life it is not a big deal but behaving badly on a prime time show is not permissible at all because families watch it," the actor added on a conciliatory note.
Meanwhile, in another interview with Hindustan Times, the actor said that he is happy over the success of Shah Rukh's "Chennai Express" which broke many records at the box office.
"That's damn good, and I'm really happy. All films should do well. Ranbir's (Kapoor) film also did so well. I don't understand this game at all. If the film is good, it will do well and, if not, it won't. Now, the (number of) theatres are increasing and so are the business and the population. Films are better too," he said when asked about the success of "Chennai Express".
When asked if he would ever participate in the show as a contestant, Salman replied, "That's a difficult one. I don't think I want to, not for any other reason but that I will be too entertaining inside the house (sic). You know, the ratings will hit the roof and I don't want to set such high standards for the others. So I'd rather stay out of the house (laughs)."
"Bigg Boss", based on the international format of "Big Brother", is best known for ugly fights among the contestants who live together under one roof for a span of three months.