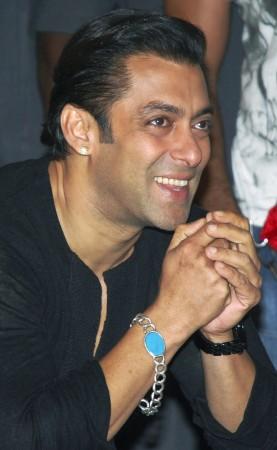 Amid rumours of wedding bells for Salman Khan, reports have emerged that the that the most eligible bachelor of Bollywood will not tie the knot with his alleged girlfriend and Romanian actress Lulia Vantur
Clarifying that the reports of the duo getting hitched, Salman's father and veteran screenplay writer Salim Khan said, "Kuch nahin, there is nothing to it! Absolutely nothing!" Indian Today reported.
Salim went on to say that Vantur was only Salman's friend.
"He meets thousands of people because of his work and travel. The girl you are talking about is a friend! It's nothing that serious."
The reports of Salman's relationship surfaced after he was spotted with the Romanian beauty in a suburban five star hotel in Mumbai. It was also rumoured that the two had been dating each other for the past two years.
"Bhai (Salman) is extremely serious about his new girlfriend and she has been in his life for around two years but no one had got any wind of it," a leading Mumbai tabloid quoted its source as saying.
"He is now being open about his relationship with her and people who are close to him are aware of her existence in his life. In fact, everyone is suggesting to Salman to get married to her, however, he is being mum about his plans."
It was also said that Vantur had been spending a lot of time with Salman on the sets of his upcoming film "Mental" and is regularly visiting his family at their Bandra residence.
The reports of Salman dating Lulia Vantur emerged soon after the superstar was reported to be seeing his "Mental" co-star Daisy Shah.
Earlier, Salman was linked up with a number of celebrities including Sangeeta Bijlani, Somy Ali, Aishwarya Rai and Katrina Kaif.