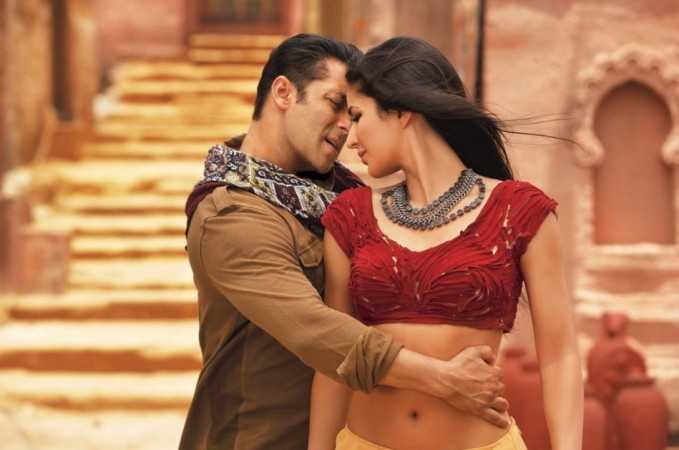 A picture of Salman Khan and Katrina Kaif that shows the two holding hands and entering the recent iftaar party hosted by Baba Siddique, has gone viral. However, the two filmstars had, in reality, visited the venue separately.
But the photo of the "Sultan" actor holding his ex-girlfriend's hand was enough to put fans in a frenzy online, prompting them to make various speculations without knowing that the picture is actually photoshopped.
The picture is a creation of an Indonesian professional photo editor named Debri Riri, who happens to be a big fan of Salman. Apparently, many fans believed the picture to be authentic and some of them even criticised Katrina for getting back with Salman after her break-up with Ranbir Kapoor. In reality, Katrina had entered the venue holding hands with Ali Abbas Zafar and Salman had made a solo entry.
The photoshop master took to Twitter, revealed that the picture was photoshopped and expressed annoyance at fans criticising Katrina. This is not the first time that the Indonesian Salman fan has created a photoshopped picture of the superstar along with his former girlfriend. She has a number of collections of such photoshopped pictures in which Salman is creatively fitted with his leading ladies.
Meanwhile, Salman has again made headlines for the wrong reasons. The actor has apparently compared the physical pain he endured during the shoot of "Sultan" with that experienced by a rape victim. The remark has sparked a big controversy. However, some reports also suggest that his remark was misquoted as a portion of his remark went unreported.
"When I used to walk out of the ring, after the shoot, I used to feel like a raped woman. I couldn't walk straight," Salman was quoted as saying during a media interaction. But according to the Indian Express, the actor had changed his words, realising the sensitivity of something like rape as he later said, "I don't think I should have. It feels like the most difficult. I couldn't take steps. I couldn't take steps."