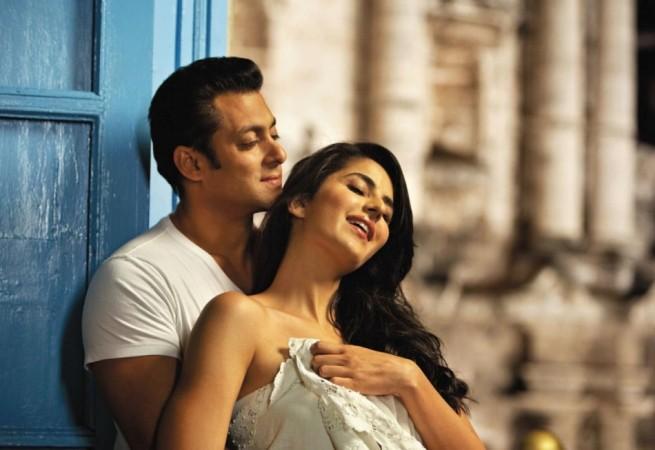 Salman Khan and Katrina Kaif's ongoing PDA on social media has been grabbing much attention among their fans. The actress has now shared a new picture on Instagram, which has led to more noise in the virtual world.
Also read: Baahubali 2 success makes Katrina Kaif spread rumours about Prabhas' Saaho for publicity?
The latest photo that Katrina shared on Instagram shows her posing with a shirtless Salman, and the duo certainly look gorgeous together. This picture has received huge response on social media as fans started assuming that the former star couple is back in relationship.
Some of the fans on social media have been going gaga over the hit pair, while some others are also criticising Katrina for allegedly returning to Salman to revive her sinking career.
It is not just Katrina who has been sharing Salman's pictures on social media, even the superstar has been giving much of his Twitter space to his former girlfriend. Recently, Salman had also shared a photo of Katrina on the micro-blogging site, after his association with Aamir Khan's Thugs of Hindostan was confirmed.
Before that, Salman had shared his and Katrina's first look from Tiger Zinda Hai, which had showed the two gazing at each other.
Nevertheless, this latest picture that the actress shared grabbed huge attention. Social media is filled with comments, and it is being believed that Salman and Katrina might come back together as real life couple as well.
However, there are some others, who have been saying that Katrina is getting close to the Sultan actor because she wants to bring her career back on track.
Katrina has had a streak of flops in the recent past. Her last three movies – Phantom, Fitoor and Baar Baar Dekho –bombed at the box office. However, the two stars may be flaunting their chemistry on social media just as a promotional tool for Tiger Zinda Hai.
Now you decide if this public display of affection is real or just for the sake of the film. Leave your comments below: