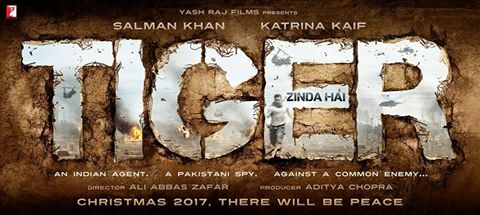 Director Ali Abbas Zafar has begun work on Tiger Zinda Hai and it's getting everyone excited. The director has promised a fresh story with Salman Khan and Katrina Kaif in the lead, but there are a few other aspects that make the film sound like it's a blockbuster in the making.
First off, Tiger Zinda Hai is a sequel (to Ek Tha Tiger) in every sense of the word. The action-thriller will pick up right from where the first instalment left. The last scenes of Ek Tha Tiger showed on-the-lam secret agents — Tiger (Khan) and Zoya (Kaif) — living a happily-ever-after life at an undisclosed location.
"I am writing spontaneously, going with my instinct. I chose to do the film because of the pressure of it. Directing Katrina (Kaif) and Salman (Khan) in an instalment of a successful franchise is not easy. But I am focusing on telling a more relevant story for today's political climate. The characters are from the first part, but the story will be brand new," Mid-Day quoted Zafar as saying.
Also, Khan and Kaif are coming together after a gap of four years, which is probably one of the top-selling points of Tiger Zinda Hai. The stars were dating for quite a few years until Ranbir Kapoor came into picture six years ago, but their (Khan and Kaif's) split hasn't created a rift in their off or on-screen rapport.
Kaif is excited about working with Khan after a hiatus of sorts. The leading lady told DNA that because they were both comfortable playing much-in-love spies in the first film, it's great that they will be reprising their roles for Tiger Zinda Hai.
And then, Kaif has promised that viewers will enjoy the action in the sequel. "If you've loved the action in Ek Tha Tiger, this will blow you over for sure. I'll just say that much," she elaborated.
The fourth reason that is every bit thrilling is that the wait for the film will not be very long. The first leg of shooting begins in early 2017 and the film should be ready for release by Christmas the same year.
Lastly, having worked with both Khan and Kaif, Zafar has an idea of how the two stars work and what suits them best. So he doesn't have to establish a connect and work hard on getting his ideas across. Also, since the filmmaker is coming from a superhit — Sultan — he would bring out all guns to make this work at the ticket window as well.