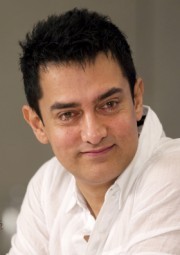 Bollywood actor Aamir Khan has only words of praise for his contemporaries Salman Khan and Shah Rukh.
The "Dhoom 3" actor, who confessed about having a shy temperament, feels that Shah Rukh and Salman have a way with the audience.
Describing Shah Rukh as a 'fine actor', Aamir pointed to the star's charming screen presence and appreciated his classic romantic films.
"I think Shah Rukh is very well loved and fine actor. He is extremely charming and I love to see him on screen. It always brings a smile on your face when you see him," Aamir told Press Trust of India (PTI).
"I have liked him in films such as 'Dilwale Dhulaniya Le Jayenge', 'Kuch Kuch Hota Hai',' he said adding, "I have heard good things about his work in 'Chak De' but I haven't seen it. It is one of the films that I want to watch. There are several other films of Shah Rukh that I have liked."
Even Shah Rukh recently praised Aamir's professional approach to his role in "Dhoom 3", which had him working strenuously for the perfect gymnast physique.
When it came to Salman, Aamir made no reservations when he said that his star quality amazed him. Expressing fondness for Salman, Aamir declared the "Dabangg" star as the best of the lot.
"There is always love and warmth in my heart for Salman. I am fond of him, I love him. I personally feel he is a bigger star than me. Because he has the ability to take a film on his shoulders...I don't think I have that capability. I don't have any hesitation in saying that."
"I think Salman manages everything, and according to me, he is the real number one," stated Aamir.
Aamir's string of praises for him may seem obvious, after Salman had delayed the promotions for his film "Jai Ho" to give way for "Dhoom 3". He was also seen sporting a bowler hat, similar to the one Aamir donned in "Dhoom 3", on television reality show "Bigg Boss".