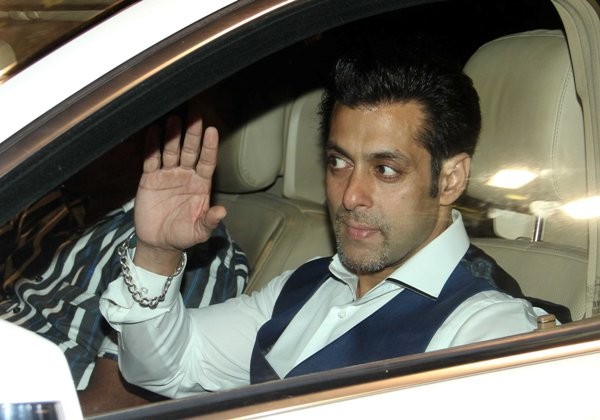 A witness in the 2002 hit-and-run case informed a Mumbai court on Wednesday that the actor was not reeking of liquor when he met him at his home a few hours after the accident, IANS reported.
The witness - Chiky Pandey, brother of actor Chunky Pandey - said that he had met Khan that morning around 9 a.m., around six hours after the accident.
"I met him and hugged him, but he did not smell of alcohol," Pandey told Sessions Judge D.W. Deshpande.
Pandey also informed the court that he had assisted Khan to buy an imported vehicle for ₹1.40 million from one owner, Abdul Rehman through a customs clearing agent.
Khan was exempted from personal appearance in the court on Wednesday as he is tied up with the wedding preparations of his younger sister Arpita, but he has been directed to remain present on 24 and 25 November when other witnesses shall be examined.
2.45 pm: The Mumbai court hearing the 2002 hit-and-run case involving Salman Khan has adjourned the case to 24 November.
12.42 pm: The Supreme Court has reserved its order on the petition filed by the Rajasthan government challenging a state high court order that had stayed Khan's conviction in the black-buck poaching case so that he could travel to Britain.
The apex court rebuked Khan stating that he had received 'all reliefs from governments and courts'. It also came down sharply on the Rajasthan high court, calling its order to stay Khan's conviction 'exceptional'.
"You say you are facing hardship because you won't get a UK visa if the conviction is not suspended. Tomorrow, convicted politicians can come to this court saying they are facing hardship so suspend the conviction. Can we do that?" the court questioned Khan's lawyer, as reported by NDTV.
"Life of a hero may depend on age and charm but Salman got all reliefs from government and courts. The HC order is exceptional," the court said, as reported by The Indian Express.
An apex court bench of Justice S.J. Mukhopadhyay and Justice A.K. Goel reserved its order, as reported by IANS, stating that Khan's visa issue was not the court's problem and that the conviction could not be stayed merely because he was not able to get a British visa.
It is a crucial day for Bollywood star Salman Khan, as the Supreme Court is set to take up the final hearing on the 16-year-old black-buck poaching case on Wednesday, and a Mumbai court will begin the hearing on the 12-year-old hit-and-run case involving the actor, in which one person was killed.
The black-buck poaching case dates back to 1998 when Khan, along with actors Saif Ali Khan, Tabu and others, were accused of killing two Chinkaras and a black-buck, both of which are endangered species, during a film shoot in Rajasthan.
Khan was convicted and sentenced to five years in prison by a trial court in the black-buck poaching case, but he has been out on bail.
Last week, actors Sonali Bendre, Neelam and Tabu had appeared in a Jodhpur court for the hearing, where a witness identified all three.
The hit-and-run case dates back to 28 September 2002, when Khan's car allegedly ran over five pavement dwellers sleeping near a Bandra eatery, killing one person.
Last month, a witness had said in a Mumbai trial court that he had seen Khan in the driver's seat of the vehicle.
The actor faces 10 years in jail, if he is convicted.