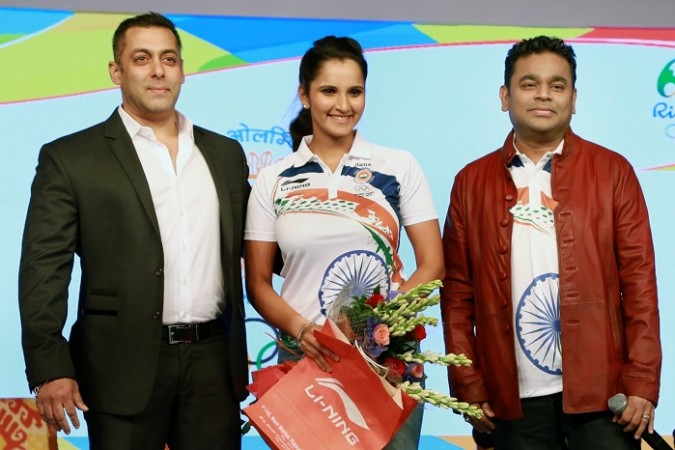 The Indian Olympic Association organised a send-off event for the Indian contingent participating in the Rio Olympics 2016. Bollywood superstar Salman Khan and music director AR Rahman, the Rio 2016 ambassadors, graced the occasion to give the Indian contingent a warm send-off and wish them all the luck.
However, only a little over 20 athletes, including tennis star Sania Mirza, were present at the event. Salman Khan, who was controversially appointed as the goodwill ambassador of the Indian contingent, hogged the limelight, giving a motivational speech to the participants in New Delhi.
"People have a lot of hope from this contingent, I wish you guys all the very best. I am here from Bombay to give you a send-off and respect that you deserve. I know how difficult it is to be a sportsperson and I know it because I couldn't become one," Salman Khan was quoted as saying by PTI.
"I didn't have that much strength to become a sportsman but you guys have it and that's why you guys have qualified. Go there and give your best. Please don't come early."
India will send their largest ever contingent to the Olympics, with a total of 121 athletes set to represent the country at the Rio Games, out of which 54 are women.
The fans will have a lot of expectations from the participants, as they look to win multiple medals for India in the world's biggest sporting event.
"The contingent this time is one third more than last time and this itself proves that Indian athletes are improving. It is not just about winning medals but qualifying to participate in the Olympics itself is a huge thing," Indian Olympic Association president N Ramachandran said at the event.