Salman Khan's sentencing for five years in the blackbuck killing case has gained mixed reactions, both from the general public and Bollywood insiders. Many believe that it is unfair to put him in jail after the humanitarian work he has done over the past two decades while others say that he should have been punished a long time ago.
Salman has quite a following in the film industry and several actors are supporting the superstar. The latest to join them is actress Sonam Kapoor, who posted a picture of her and Salman Khan on Twitter and Instagram. She captioned the image as " You're the best! Always by your side! @beingsalmankhan".
But, not everyone's impressed with Sonam's unflinching support for Salman Khan. Several commentators trolled her quite brutally on social media over her post.
The feminist in her also apparently went for a walk while she tweeted this ?

— Elle (@imeandmyzelf) April 7, 2018
Not to forget the people living on the footpath!

— vivek (@vivek_cool) April 7, 2018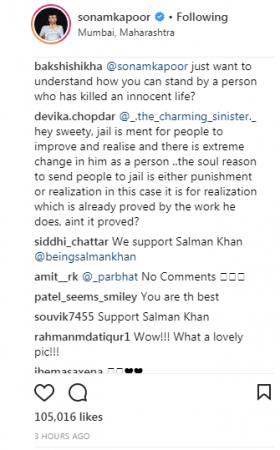 This is not the first time that the Saawariya actress has been targeted online. Sonam was earlier trolled for wishing Pakistani actor Fawad Khan on his birthday. Before that, she was cyberbullied for criticizing Sri Sri Ravishankar for his comments on homosexuality.