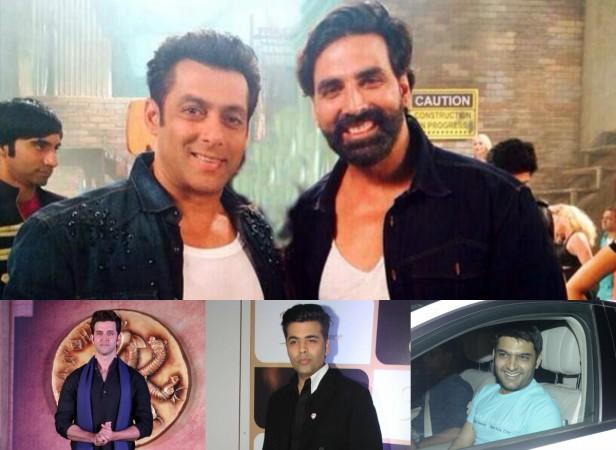 Bollywood actor Salman Khan has earned big last year with his film, Sultan and now is set to rule the box office with his two films – Tubelight and Tiger Zinda Hai. However, the superstar follows the 'pay as you earn' scheme, which has made him the highest advance taxpayer in Bollywood of this year.
Also read: Salman Khan to launch brother-in-law Aayush Sharma in movies?
India Today has released the data of advance tax paid by top ten actors till March 15, 2017. However, the report suggests that the income tax department has declined to give the data of Shah Rukh Khan, Aishwarya Rai Bachchan and Amitabh Bachchan, as they are linked to Panama Papers leak case.
For people who are not aware of what advance tax refers to, it is paying a part of your taxes before the end of the financial year, and is also known as 'pay as you earn' scheme. So, among Bollywood actors, Salman has topped the list, followed by Akshay Kumar, Hrithik Roshan and Kapil Sharma.
According to India Today, Salman has paid an advance tax of Rs 44.5 crore, as compared to Rs 32.2 crore paid in the last fiscal 2015-16 to the I-T department. Akshay and Hrithik paid Rs 29.9 crore and Rs 25.5 crore, while Kapil, who is in news at present, paid an advance tax of Rs 7.5 crore.
Take a look at the table of Bollywood actors' list of who paid advance tax for 2016-17:
| | | |
| --- | --- | --- |
| No. | ACTORS | ADVANCE TAX (in Rs crore) |
| 1 | Salman Khan | 44.5 |
| 2 | Akshay Kumar | 29.9 |
| 3 | Hrithik Roshan | 25.5 |
| 4 | Ranbir Kapoor | 16.5 |
| 5 | Aamir Khan | 14.8 |
| 6 | Karan Johar | 11.7 |
| 7 | Kapil Sharma | 7.5 |