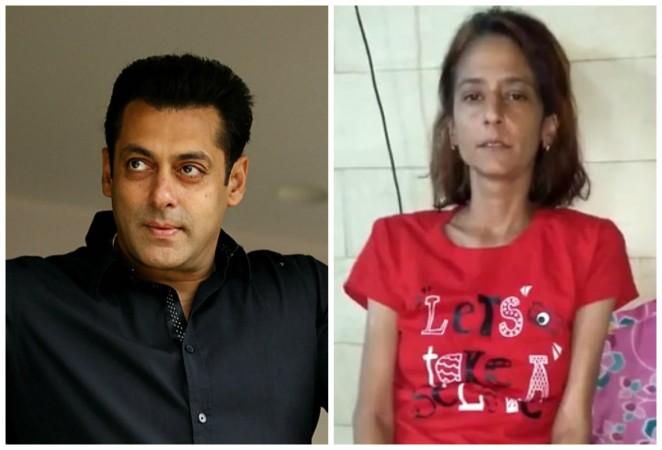 Salman Khan has reportedly reached out to his Veergati co-actress Pooja Dadwal, who is currently suffering from Tuberculosis (TB). The superstar has gifted the former actress some essentials and assured her that he will bear the entire treatment expenditure, as per reports.
According to Mumbai Mirror, as soon as Salman came to know about Pooja's ill-health, he sent two bags of clothes and some other gifts to her through his team. Pooja will also be shifted to a private hospital, and Salman's team assured her that the entire treatment will be taken care of by the actor.
"Finally, I will be moving to a private hospital and I hope that I will get back on my feet soon. At least now, after weeks I will be able to afford a cup of tea. Thanks to all these good people," the publication quoted Pooja as saying.
Apart from Salman, Cine and Television Artiste's Association (CINTAA) has also promised to extend financial help to her in the form of monthly cheques. Earlier, Bhojpuri actor Ravi Kishan had come up to support Pooja by sending fruits and some cash to the hospital.
Pooja, who had featured in Salman's 1995 film Veergati, was admitted to a government hospital after being diagnosed with TB and some lung disease. The actress' husband and family had also reportedly abandoned her after they found out about her sickness.
The news of about her deteriorating health broke after Pooja had released a video narrating her ordeal. She said that she was penniless, and sought Salman Khan's help for treatment.
"Salman sir, today, I am at that point in my life when I really need your help. Some of my friends have helped me come out from the well of death. Neither do I have money for my treatment, nor do I have someone to support me. I don't expect any money from you sir, but I want my treatment to be done. I want to live again. I hope, seeing my present condition, you will stand by me," she said in the video.
When Salman learned about Pooja's plight, he said he would try to help her in all possible manner.
"I know. It's really sad. She is not my co-star, but she was Atul's (Agnihotri) co-star. I just heard about this and we are trying to help as much as we can. And our team is already into it. I was not knowing about this that she was going through this phase. Yeah, I think she will be okay," Salman had said during the press conference of Da-Bangg tour in Pune.
Apart from Veergati, Pooja had featured in films like Hindustan, Dabdaba and Inteqam.