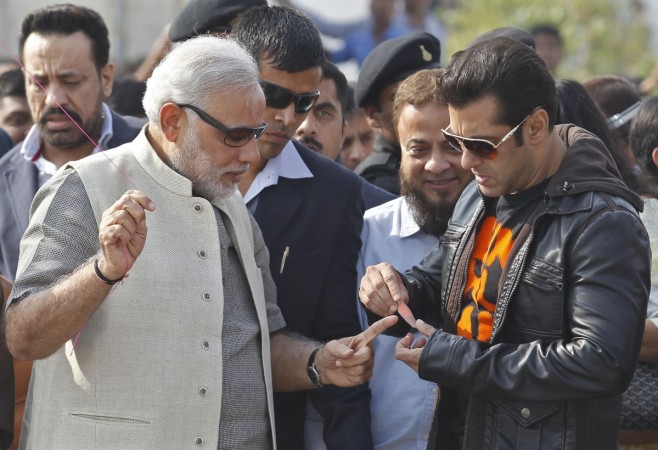 Narendra Modi's performance in the first 100 days of assuming office as the Prime Minister of India has been received with mixed reactions, but superstar Salman Khan thinks he deserves more time.
The actor said that people criticising his abilities should first learn how to manage their own household."It has been just 100 days now; let's give him some more time - everyone deserves it. He is working from morning to night along with his team," the actor told India Today, and added "People don't want to take responsibility here. I challenge everyone who is criticising him to first become a chairperson of their housing society, let alone run the country. Then you will know about the hurdles one has to face. We can barely run our households; who are we to run the country? But Modi is still doing that."
Khan who was invited to Modi's swearing ceremony (May 2014) opined that a person running an entire nation should have the freedom to take decisions all by himself. He also praised the the PM's drumming skills, "I have seen him play the drum; he does it very well and it is very cool."
Modi, who has been reviewing the J&K flood situation closely, also wrote a letter offering his assistance to Pakistani PM Nawaz Sharif regarding flooded PoK, which has suffered equal amount of death and destruction. "In this hour of need, I offer any assistance that you may need in the relief efforts that will be undertaken by the government of Pakistan. Our resources are at your disposal wherever you need them," The Times of India quoted the letter.
Impressed and overwhelmed with the PM's statement, Khan said it was "good" to know, that Modi was reaching out to Pakistan's flood-ravaged areas. "We have unanimously elected him as our Prime Minister, so we have to give him that respect. It is good to hear that he has lent a helping hand to Pakistan's flood-affected areas. It is not something that someone has asked him to say in front of the people; that's who he is," he noted.