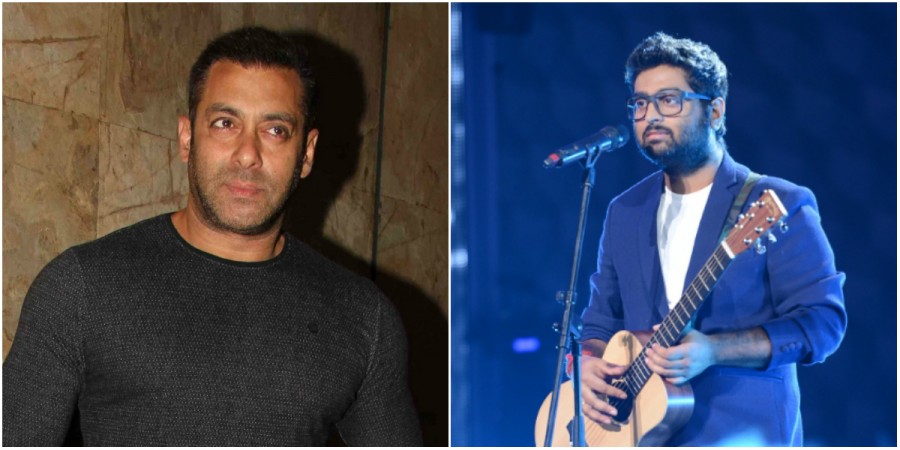 Singer Arijit Singh's public apology to Salman Khan came as a shock to everyone and led to several speculations behind the letter. The "Sultan" actor was recently asked about it and his reply might hurt the singer again.
According to Press Trust of India, when Salman was asked about the apology letter, he snapped twice before completing the question: "Who is that?" He later said that if any song has not been taken by the makers in the film, then one should not get upset about that.
"In every film there are lot of singers who sing and director and producer who make the choice of who is going to be the best voice for the film. One voice was mine but that was also rejected, so why get so upset and so hurt. This is life," Salman told PTI.
"There should be a day when a person (actor) should say don't sing or sing. Smart ones don't turn out bright. Then smart comments ... post... they don't... you come to know the intentions," the superstar added.
Controversy sparked between the two when Arijit posted an apology to the "Dabangg" actor on Facebook and pleaded not to remove a version of a song of him in "Sultan." However, later he had deleted the post.
Arijit had apparently lent his voice to "Jag Ghoomeya" in the Ali Abbas Zafar film, but it was reportedly re-recorded in Rahat Fateh Ali Khan's voice. Also, Salman has his version of this song. It was said that the apology letter was in connection to an incident during Star Guild Awards 2014.
Salman was co-hosting the event when Arijit was called on stage to receive an award for the song "Tum Hi Ho." The singer was apparently asleep when his name was announced and reacted only after a while.
When he went on the stage to receive his award, Salman jokingly said: "So gaye the!" (Did you fall asleep?) Arijit responded to the joke saying, "Aap logone sula diya yaar" (You guys made me fall asleep). To this the "Sultan" actor retorted that such slow songs would make anyone fall asleep. While neither Salman nor Arijit looked annoyed by the jokes on the stage then, the actor was reportedly miffed with the singer due to the incident. Click here to watch the video from the event.