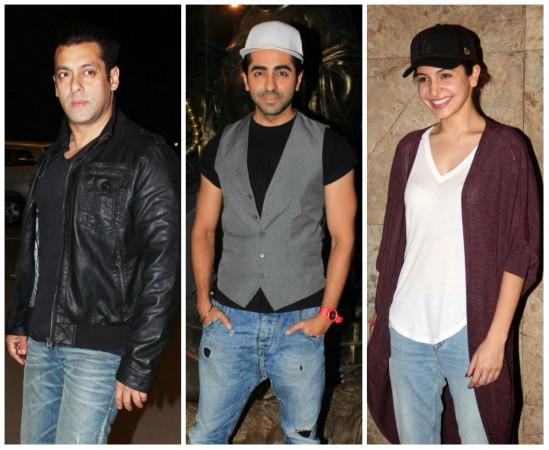 Shah Rukh Khan always gives his ever-expanding fan base credit for making him the superstar he is today. While some stars understand the significance of having admirers across the globe, a few celebs have gone on to abuse them.
Salman Khan is one such star who has had several altercations with his fans. According to The Times of India report, he once pulled over and rolled down the car window to snatch a phone from a fan who was just trying to get a photo of his. It doesn't end here, the "Bigg Boss 8" host had once slapped a fan in his 20s who was so elated on seeing the actor that he went up to him to kiss and hug him. Salman, reportedly, didn't appreciate the gesture.
Ayushmann Khurrana, who recently turned father to a baby girl, was mighty miffed about a joke one of his followers made.
Neyha ♡ Borulkar: @RannvijaySingha got married... @ayushmannk had his 2nd baby... @MTVIndia sinking! WOW!
The "Hawaizaada" actor retorted writing, "Exactly the way ur dad's company sank when u were born." However, later when the fan said she was being misunderstood, Ayushmann was man enough to have acknowledged his mistake. "@Neyha8 oops! Sorry! Thanks! Just became lil touchy after joining 'father of the bride' club," he wrote.
Rishi Kapoor, who shares a hate story with one of his fans, was at Ekta Kapoor's Iftar party when things went wrong. An aged fan followed him to the washroom wanting an autograph. Annoyed and irritated, he called him names and asked him to leave. In his defense, the yesteryear star said he did not appreciate the fan trailing everywhere.
Anushka Sharma, who usually comes across as an upbeat and cheery person, lost her cool when a boy followed her at an awards function asking her inappropriate questions. She called him 'pagal' (mad) warning him not to misbehave.
Akshay Kumar, who doesn't come across as someone who would physically assault a fan, allegedly lost his cool on the sets of one of his 2015 releases - "Gabbar" – slapping a fan when he tried to surpass the security cordon. However, the actor later informed his followers that it was nothing but a rumour.
"Amused at seeing the news on various platforms about me losing my cool and slapping a fan on the sets of Gabbar! For the past 2 months I have been shooting for Brothers, funny how some idle minds cook up the most ridiculous stories," he posted on his Whosay account.