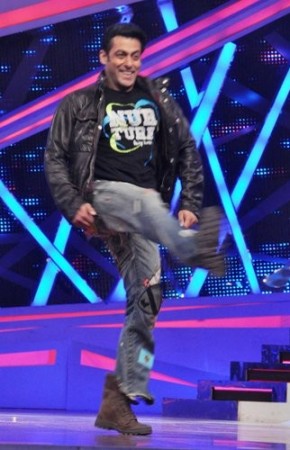 Superstar Salman Khan is miffed with media's razor sharp comments on his performance at the UP's Saifai Mahotsav.
The "Dabangg" actor in a Facebook post had stated that his visit to the town in Uttar Pradesh was also associated with philanthropic activities undertaken by his charity 'Being Human'. But the star's intention has been questioned and his performance has been labeled as insensitive in the face of the conditions of the riot-hit victims of Muzzafarnagar.
"Kya karoon? How can I convince people that my intentions are true, yeh naatak nahin hai?" the 48-year-old questioned, according to the Times of India.
"Whether I get paid Rs 6 crore, Rs 8 crore or Rs 12 crore, it's my hard earned money. I'm an actor who gets paid to entertain. Two lakh people watched me perform that evening," he added.
"That money will be used to take care of the hospital bills of 250 kids and I bought equipment for a medical college in Aligarh. That's more than what the shawl wearing folk, standing outside their sarkari bungalows, pointing fingers at me, will do. I was at a college in Nagpur before I flew to Saifai. Did anyone bother about what I did there?"
Along with Salman, Madhuri Dixit, Alia Bhatt, Varun Dhawan, Mallika Sherawat, comedian Sunil Grover and others performed at the VIP event.
Meanwhile filmmaker Mahesh Bhatt has reportedly expressed regret over his daughter, Alia's performance at the do and said that it was a failure of his parenting abilities.
However, Salman begs to differ and also defended the director on Twitter. "Bhatt saab no need for apology, Alia's upbringing is great, was proud to share the stage with her. She earns her living with hard work and dignity," he posted.
While Salman might not think that there was anything wrong with the stars performing at the event, Mahesh Bhatt's elder daughter spoke out in support of her father. "Mahesh Bhatt you have NOT failed as a father. Alia needs representation that has a far more sensitized & astute worldview. End," she wrote, advising her younger sibling to be vigilant in future.