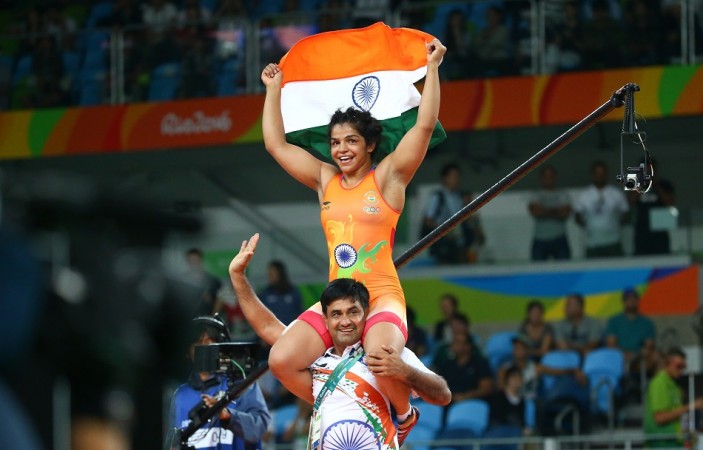 Sakshi Malik has finally given a reason for India to cheer as she won the first medal for the country in Rio Olympics 2016. She defeated A Tynybekova of Kyrgyzstan in wrestling 58kg freestyle category.
The 23-year old has become the fourth Indian woman athlete to win an Olympic medal. Karnam Malleshwari (bronze medal in weightlifting in the year 2000), MC Mary Kom (bronze medal in boxing in the year 2012) and Saina Nehwal (bronze medal in badminton in the year 2012) are the other three, who won medals at the quadrennial event.
"I always felt I would win. I did not back down and kept pushing. This is historic for Indian women wrestlers. This is the result of over ten years of hard work. I feel proud and special that I could get this medal for India" she said after winning the medal.
The whole nation is now celebrating her victory. Politicians, cricketers and film stars have lauded her performance and congratulated her on Twitter. Below, find their tweets:
Karan Johar: The innocent smile of achievement and our smile is of immense pride.....#SakshiMalik is the hope for the future....
SUHEL SETH: And for all the male chauvinists in India, think again. It was a woman who made India look good with its first medal! #SakshiMalik
Madhur Bhandarkar: Salute to the daughter of India #SakshiMalik for overcoming challenges and bringing cheers to millions of Indians by winning the first medal
Huma Qureshi: #SakshiMalik you make us proud !! Congrats
Sachin Tendulkar: What great news to wake up to! #SakshiMalik, your resilience at #Rio2016 has made whole of India proud. Many Congratulations!!!
VISHAL DADLANI: Congratulations, #SakshiMalik ! Congratulations India! Woohoo!
Manoj Bajpayee: congratulations #SakshiMalik .entire nation is rejoicing on your achievement.thank you.
Riteish Deshmukh: & the Indian flag flies high..You have made every Indian proud. Congratulations on the Olympic Bronze #SakshiMalik
Virender Sehwag: #SakshiMalik is a reminder of what cn happn if u don't kill a girl child.When d going gets tough,its our girls who get going &save our pride
Neha Dhupia: #SakshiMalik I salute the woman , the athlete n the Indian in u.What a fantastic win n what a glorious moment.Congratulations #Olympics #Ind
Dulquer Salmaan: Big big congrats to Sakshi Malik and all other Indian athletes. All of you are the real inspirations to this great nation of ours !
SS Rajamouli: Congratulations Sakshi Malik on winning wrestling bronze at the‪#‎Rio2016‬. The entire nation is proud of you!
Sakshi Malik
Ajay Devgn: Sakshi Malik, we want you to know that India loves you. Go Girl ...We celebrate you with pride. Sakshi malik .. We salute u
Navya Nair: Proud of you Sakshi malik ‪#‎bronze‬ medal ‪#‎Rio‬ olympics
Samantha Ruth Prabhu: ‪#‎SakshiMalik‬ ‪#‎Rio2016‬ crazy amazing
Rahul Dravid: Sakshi Malik!!! This is a great feeling. Congratulations to you and your team!
Aamir Khan: Congratulations Sakshi Malik! 1st Indian female wrestler to win an Olympic medal. Well done. You have done India proud!
Rahul Bose: Sakshi not the only one to make me proud. All our athletes that tried their best, never gave in, won/lost with grace should make us proud.
Anil Kumble: Well done #SakshiMalik on your achievement! Proud of you! #Rio2016