Controversial BJP lawmaker Sakshi Maharaj is back in news and this time too he has sparked a controversy.
The MP from Unnao, a town in the north Indian state of Uttar Pradesh, inaugurated a nightclub in Lucknow on Sunday evening. The club called 'Let's Meet' is located on the second floor of Jeet Plaza near Ram Ram Bank crossing in Aliganj, said a Zee News report said.
BJP MP wasn't aware that he was inaugurating a nightclub
Interestingly, after the news made headlines, Maharaj, who is infamous for his outrageous remarks, said he was under the impression that 'Let's Meet' is a restaurant.
"I was told by former UP state president Rajjan Singh that it was a restaurant owned by his son-in-law. I agreed," Maharaj told The Time of India. He added that he realized it later that it was actually a bar and a nightclub.
It seems that the self-styled godman is embarrassed.
"I have sought the license of the club. I am not just an MP but also a 'Sadhu' who is supposed to stay away from all such things," Maharal added.
The club which was inaugrated by Unnao BJP MP Sakshi Maharaj in Lucknow is called Lets meet night club.

The club is located in Aliganj.

Sakshi Maharaj is now busy giving clarifications that he wasnt told the place is night club. That he was only told its a restaurant !! pic.twitter.com/8REaHuTpXr

— Rohan Dua (@rohanduaTOI) April 16, 2018
Earlier too Maharaj has been the center of several controversies. Here are three outrageous statements made by him.
1) Vulgar acts by couple lead to rape- In 2017, the BJP MP had said couples displaying their affection in public should be put behind bars.
"When these couples ride a motorcycle, they hug each other as if the girl will eat the boy or the boy will eat the girl," Maharaj had said.
"Similarly, couples can be seen behaving in a vulgar fashion in cars, parks and other places. Everyone ignores them, but once rape happens, people demand action against the police, so the right thing would be to take action and put such couples behind bars," the 'sadhu' added.
2) Defending rape convict Ram Rahim Singh- Maharaj had faced flak for his statement on Ram Rahim Singh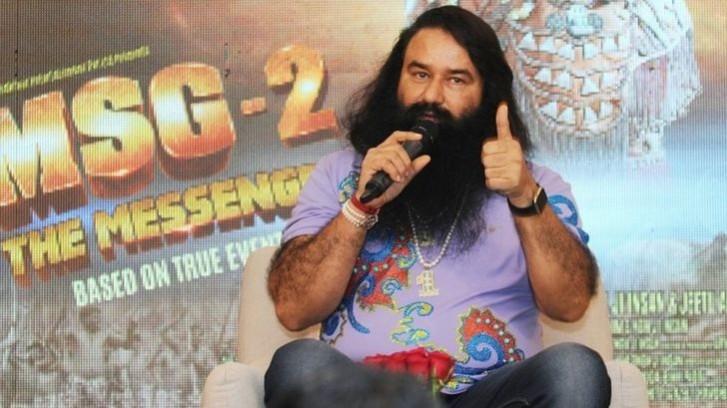 "One person has complained of rape against Ram Rahim. Crores others believe he is God. Who do you think is right?" Singh had said.
He also claimed that Singh "is a simple man so he is being harassed," and the rape charges are a "conspiracy to defame not only Ram Rahim and other saints, but also Indian culture."
3) Hindu women should give birth to four children- On January 7, 2015, Maharaj had urged Hindu women to produce at least 4 children in order to protect the Hindu religion. He even took a jibe at the Muslim community and said "the concept of four wives and forty children just won't work in India".