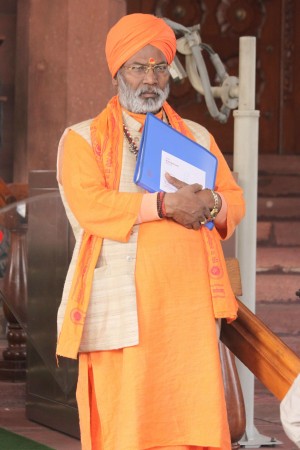 Bharatiya Janata Party member and RSS leader Sakshi Maharaj, on Thursday, denied having made the controversial statement that he could "make or break" the government.
The BJP lawmaker claimed that the reports which said that he had made any divisive statement were false as he greatly admires Prime Minister Narendra Modi. Sakshi Maharaj described Narendra Modi as a "divine power".
"How can I say that I can make or break the government? Such arrogance does not befit even a fool," Sakshi Maharaj was quoted as saying to PTI. He later said that he was wrongly quoted by the media.
Sakshi Maharaj went on to say that Modi is India's "divine destiny".
NDTV reports that Sakshi Maharaj said that PM Modi should focus on the economy of the country as well as Hindu agenda. However, he later denied having said any such thing.
Sakshi Maharaj also said that if the saffron party was not satisfied with his explanation then they were free to take necessary action against him. He added that being a citizen of India - a democratic country - he had the right to express his views freely.
The five-time MP and a voice of Hindutva, Sakshi Maharaj, has been under media's scanner for quite some time now for his controversial statements. The nation had recently seen a massive uproar resulting from a statement he had made. He had said that every Hindu woman should give birth to at least four children to protect the religion.
The BJP had also given him a showcause notice for his controversial statements in December, last year.