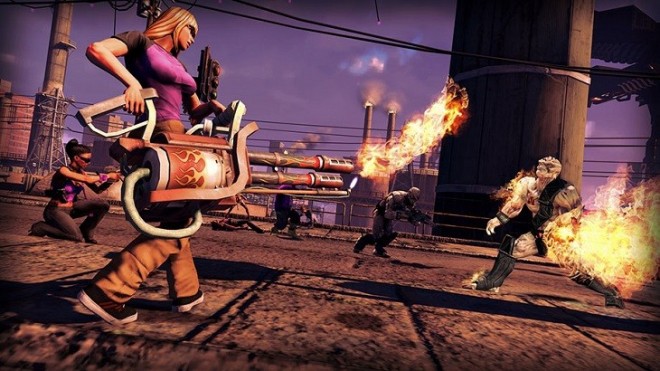 The upcoming PAX Prime is likely to throw in a few surprises for participants as developer Volition is likely to reveal a sequel to its fun and zany gaming title Saints Row 4. The new game is likely to be titled Saints Row 5.
Saints Row 5 is likely to be revealed on 29 August at PAX Prime, 10am PT (6pm BST). More information will be revealed at a panel that would include Jim Boone, producer of Saints Row, Natalie Lander, voice actress in Saints Row, Steve Jaros, creative director at Volition, Aubrey Norris brand director at Deep Silber and Mike Watson, the community manager at Volition.
"The developers behind the Saints Row franchise invite you to participate in a quiz show hour with Natalie Lander, the voice of Kinzie! At the end of the panel, we'll show you exclusive gameplay, art, and details for an upcoming project from Volition," said a post on the official PAX website.
This means that the quiz show is likely to be thrown and the "upcoming project" will be conformed at the end of the panel.
It has also been suggested that the game might be made available on the floor alongside other playable games like Metro Redux, Escape Dead Island and Dead Island 2.
Saints Row 4, which was released in August 2013, did not receive the next-generation console edition and hence it is very likely that Saints Row 5 will come for PlayStation 4 and Xbox One.
Previously, there had been reports on Saints Row 5 being in development. Jay Mohr, actor ("Pay it Forward", "Jerry Maguire") had tweeted that he was working on a new Saints Row video game. He had also posted a picture, showing sixecharacters in the background. But their identification was not possible.
GameSpot had asked Deep Silver if Saints Row 5 was in development but it had declined to comment. Saints Row 4 had sold 1 million units in the first week of its release.
Saints Row 4 was set in a fictional city of Steelport, which was attacked by aliens and the protagonist, who is now the president of the US, has to send them back to where they came from. The game caused controversy after it had references to sexual violence and drug use. An edited version of the game was released in some countries.