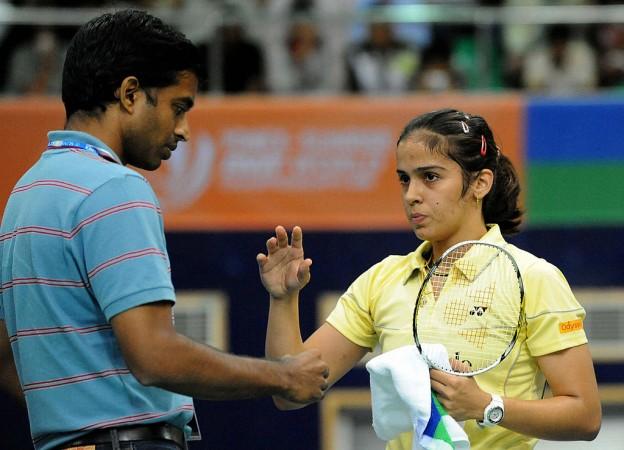 Saina Nehwal and Pullela Gopichand have let bygones be bygones as the London Olympic bronze medallist has once again started training at the Pullela Gopichand Badminton Academy in Hyderabad.
Saina had stopped training at the Gopichand-run academy in 2014 as she had reportedly felt her training "was not upto the mark". The former world number one shuttler then moved to Bengaluru, to train under Vimal Kumar, who was one of the chief coaches of Prakash Padukone Badminton Academy.
"The training which I got [under Gopichand] was not up to the mark. We discussed on my game but whatever we applied on the court did not work out for me. My game required something different, something else," Saina had told in 2015, according to the Press Trust of India.
Saina is keen on staying in Hyderabad now and will continue training under Gopichand, who was key to her bronze medal winning-campaign at the London Games, according to the Times of India.
How the hatchet was burried
Notably, Saina and Gopichand were reportedly not even in talking terms when the former was training in Bengaluru. However, it has come to light that the 28-year-old resumed conversations with her then former coach in Glasgow during the BWF World Championships last month.
Saina, who finished with a Bronze at the world meet, took to Twitter on Monday, September 4 to confirm that she has moved back to Hyderabad. The star shuttler added she had been mulling to resume training under Gopichand for a while now and spoke to tactician about the same.
For a while I've been thinking about moving my training base back to the Gopichand academy and I had a discussion about this with Gopi sir

— Saina Nehwal (@NSaina) September 4, 2017
and I am really thankful to him for agreeing to help me again . At this stage in my career I think he can help me achieve my goals .

— Saina Nehwal (@NSaina) September 4, 2017
I m very happy to b back home and train in Hyderabad ??keep supporting friends ??

— Saina Nehwal (@NSaina) September 4, 2017
I'm also very thankful to Vimal sir for helping me for the last three years. He helped reach world no.1 in the rankings ..

— Saina Nehwal (@NSaina) September 4, 2017
And also helped me win two world championships medal silver in 2015 and bronze in 2017 along with many super series titles ..

— Saina Nehwal (@NSaina) September 4, 2017
Too much pressure on Gopichand?
It will be interesting to see how Gopichand handles the additional pressure of focusing on Saina as he already has a lot on his plate. The master tactician has been grooming the likes of Sindhu, Sai Praneeth, Kidambi Srikanth among others at his academy in Hyderabad.
Gopichand will now have to go out of his way to give equal amounts of time to Sindhu and Saina, both of whom are aiming to topple the rest of the back in the Women's singles circuit.