In a country where cricket rules the roost, the game of badminton is gradually gaining prominence. If Saina Nehwal has played a huge role in making it popular, PV Sindhu is following in the footsteps of former world number one, who has almost won everything in the sport.
It would not be wrong to state that the two players have placed India in the global map of world badminton, and are regarded as a force in the women's game. However, one should not forget the likes of Prakash Padukone, Pullela Gopichand and Aparna Popat, who before Saina and Sindhu gave India an identity in the sport with their brilliant skills as well. Saina and Sindhu had someone to look up to, especially the two male champion shuttlers, who have both been churning out future stars in their respective badminton academies since retiring.
Though Saina and Sindhu may have distinctive styles of play, there is a strong rivalry brewing. There was a time when Saina was the sole flag bearer of the country, bringing laurels by winning titles, but times have changed in the last couple of years, where Sindhu has gradually become the darling of Indian badminton, challenging top shuttlers, and winning titles.
However, one should give huge credit to Saina, who at times, single-handedly ended the Chinese dominance, defeating players from the region, and climbing the ranking charts. The likes of Li Xuerui were mighty dominant in the circuit, but Saina stood tall amongst the Chinese shuttlers too, helping her attain the world number ranking.
Comparing Saina and Sindhu might be a bit difficult as they have not played much against one another. In their only BWF head-to-head in 2014, Saina defeated Sindhu. Saina also beat Sindhu in Premier Badminton League in 2013. However, Sindhu got the better off Saina in PSL 2017.
For a better understanding, here is a look at what makes Saina and Sindhu tick.
Strength
Saina – The 27-year-old has great mental strength as has been witnessed in several matches, as she can come back from a game down to pull off victories.
She understands her opponents well and adjusts her game accordingly.
The star is known for her brilliant technique in the sport, and when it comes to using angles, she does that better than most.
Sindhu - Her fearless approach against top shuttlers stands out. No matter who she is playing, Sindhu plays as per her forte – aggressive game, which includes some powerful smashes.
Sindhu also great stamina to outlast her opponents, and also maintains her fitness with a strict training regime.
She is quick on her feet and can cover the court brilliantly.
Weakness
Saina – Fitness is a problem, with the number of injuries she has had to face in her career.
Sometimes, the player looks flat, allowing her opponent an upper hand with her negative body language.
Sindhu - Most of the times, does not have a Plan B when her smashes do not come good.
Sindhu has to work on her game at the net.
Achievements
For any badminton player in the world, there are three major competitions (Olympics, World Championship and the Superseries Masters Finals ) which they dream to win. Saina won bronze in the 2012 Olympics, while Sindhu finished with silver in Rio 2016. Sindhu became the first Indian woman player to win a medal in the 2013 World Championships. Sindhu backed that with an amazing performance in the 2014 World Championships, winning yet another bronze.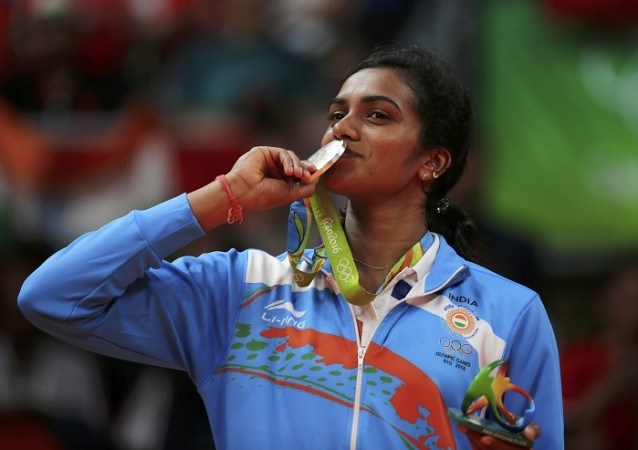 With Saina having started her career a lot earlier, she must have been aware of Sindhu's back-to-back World Championship medals, but she turned up her game in 2015, winning silver.
Besides these, they have won a number of major titles. Saina seems to have an upper hand in the matter with eight Superseries and nine grand prix titles, but one has to note that Sindhu, 21, has many more years ahead of her, and the way Sindhu has been playing of late, it would not be a surprise if the latter ends up with more titles.
Other major titles

Saina Nehwal

Superseries:

Indonesia Super Series Premier (2009, 2010, 2012),
Australian Open (2014, 2016)
Denmark Open (2012)
China Open (2014)
Hong Kong Open (2014)

Grand Prix Gold

Malaysia Open (2017)
Syed Modi Grand Prix (2009, 2014, 2015)
Swiss Open(2011, 2012)
Chinese Taipei (2008)
Thailand Open (2012)
India Open (2010)

PV Sindhu:

Superseries:

Grand Prix Gold:

Malaysia Open (2013, 2016)
Macau Open (2013, 2014, 2015)
Head-to-head record against some top players
| | | |
| --- | --- | --- |
| Head-to-head | Saina Nehwal (W-L) | PV Sindhu (W-L) |
| vs Carolina Marin | 4 -3 | 3-5 |
| vs Wang Shixian | 7-7 | 4-6 |
| vs Ratchanok Intanon | 7-5 | 1-4 |
| vs Tai Tzu Ying | 5-8 | 3-6 |
| vs Sung Ji Hyun | 6-2 | 6-4 |
| vs Li Xuerui | 2-12 | 2-3 |
| vs Sun Yu | 6-1 | 3-4 |
Let us end with what Carolina Marin had to say about the two Indian shuttlers, earlier in the year.
I cannot pick one because both are very tough. They are very different players.