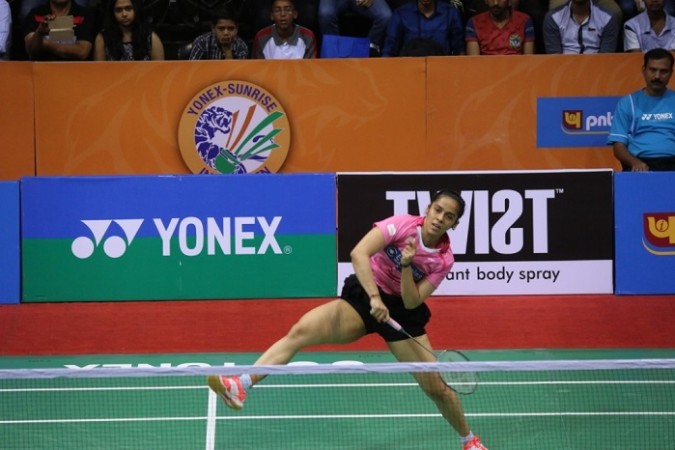 It was a mixed day for Indian shuttlers -- Saina Nehwal and PV Sindhu -- in the ongoing India Open Superseries at Siri Fort Complex in Delhi, Friday. Saina reached the semifinals, defeating Sung Ji Hyun while Sindhu lost to Bae Yeon Ju in the quarterfinals of the competition.
Saina had to come with her best game to defeat Sung Ji in a thrilling contest, which lasted for 82 minutes. Saina won the match in three games, score reading 19-21, 21-14, 21-19. Saina will meet Li Xuerui in the semifinals, Saturday. Sindhu, on the other hand, after winning the first game, lost the remaining two to lose the match, 15-21, 21-15, 21-15.
With players like Saina and Sun Ji, who are known for their quality, in the last eight, an entertaining match was expected, and the duo did not disappoint with some terrific shuttle play. The first game, which ended in favour of Sung Ji, witnessed both players coming up with some long rallies, finished by powerful smashes or brilliant play at the net.
Saina looked good as she was pushing Sung Ji in the baseline and playing those drop shots with perfection. But Sung Ji came back strong, and took her game to another level for 1-0 lead in the best of three games contest.
Sung Ji had problems with her ankle during the early stages of the second game as the doctor had to be called in as well. However, Saina looked even more determined in the game as she took an early lead of 6-3, and further increased to 17-9, with some wonderful touches at the net and perfect smashes, which forced Sung Ji in making errors. Though the South Korean shuttler came back again, Saina won the game, 21-14.
The match, after an entertaining first two games, was taken to a decider. It was winner takes it all. Sung Ji ran into 5-1 lead, but Saina clawed back, to level it to 5-5. After levelling the score, there was an air of confidence in Saina's game as she took 11-7 lead.
Out of nowhere, Sung Ji found extra energy after changing ends in the third game, and took a 13-11 lead. Sung Ji played some wonderful badminton in the final game, and inched closer to the semifinal with 17-15 lead, but Saina held her nerve to come back and clinch the game, 21-19.
After Saina secured her spot for last four, it was Sindhu's turn to excel in front of the home crowd, whose support can lift players. Each and every point of Sindhu was cheered on by the hopeful crowd.
But Sindhu disappointed with her performance against Yeon Ju.
In the first game, she gave plenty of reasons to cheer, playing some exquisite shots. Sindhu showed her class, playing those powerful smashes down the line, and her opponent, Yeon Ju, also looked clueless.
Sindhu looked confident in her shuttle play against Yeon Ju, who tried to give it her all but finished second best in the first game, which read 21-15 in favour of the Indian player.
However, Yeon looked better and came all guns blazing in the second game and was troubling Sindhu, who trailed 10-7. The South Korean began to enjoy further good spell, as she increased her lead to 16-8, and the Indian, for a change, was looking clueless. The South Korean won the second game, and the quarters headed for a decider. One has to credit Yeon Ju for her impeccable performance in the second game.
The third game was even more interesting with both shuttlers eager to book their semifinal berth. Though Yeon Ju started off well, Sindhu came back, levelling it to 5-5, but the South Korean soon took a 11-7 lead. After a series of some intriguing rallies, Sindhu closed the gap, but was still trailing 15-13.
However, it was too much for Sindhu, who lost the match, 21-15.