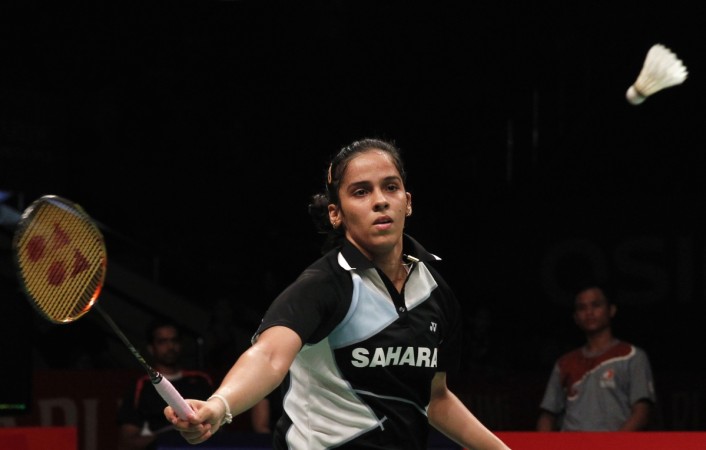 Saina Nehwal has terminated her association with coach Pullela Gopichand.
Nehwal, who lost in the quarterfinals of the World Badminton Championships to Li Xuerui of China, has decided to relocate to Bengaluru, to begin training under Vimal Kumar before the Asian Games in Incheon.
Kumar is a former India coach, who has also represented the country in Badminton.
"Yes, I am going to Bangalore tomorrow. I want to train with Vimal Kumar Sir," Nehwal told Times of India.
Kumar has been helping Nehwal before as well. She added that a move back to Hyderabad after the Incheon games might be in the offing.
"His tips during the Uber Cup were quite helpful. But after the Asian Games I will come back here," the ace shuttler stressed.
Even after the Asian Games, Nehwal had put forth that she wanted to continue with the former Indian player and hoped the stint with him would be helpful.
"I just want to try and train with him. I hope it will be helpful for me," she pointed out.
Nehwal let known that she had apprised Gopichand of the decision to part company the previous week in Copenhagen.
"I told Gopi Sir during the World Championships and he said OK," revealed the Olympic bronze medallist.
Gopichand and Nehwal had gone their own ways on a previous occasion as well. In 2011, she was associated with Bhaskar Babu. She, however, chose to resume her partnership with Gopichand after only three months.
The Nehwal-Gopichand association had been an extremely successful one. It is under Gopichand that Nehwal came to prominence. She won a bronze medal in the 2012 Olympics with Gopichand as her coach.
In recent times, Nehwal suffered a dip in form, which might have prompted her to this decision. To add to this, the ascent of other shuttlers - such as PV Sindhu and K Srikanth - meant that Gopichand had to divide his time between Nehwal and them.
This split between Nehwal and Gopichand means that one of Indian sport's most productive pairings has come to an end.