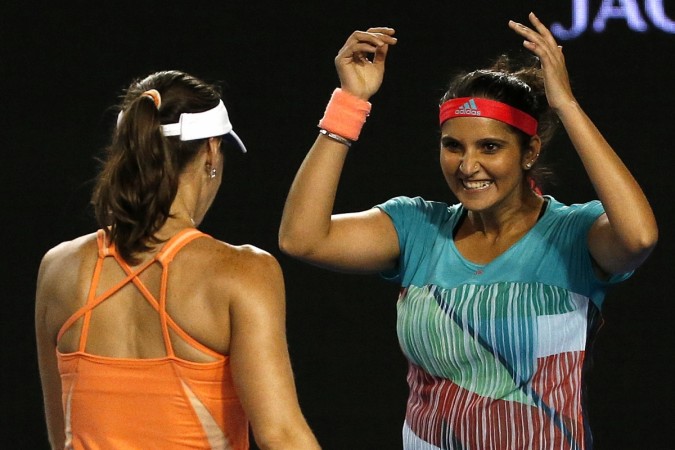 India's tennis sensation Sania Mirza's autobiography, titled "Aces Against Odds," is set to be released this July. The book will be published by renowned-publishing company HarperCollins.
The book, which has been penned by Sania and her father Imran Mirza, will walk the fans through the tennis star's journey from 2003, when she turned a pro, to 2016, when she reached the No. 1 ranking in Women's Doubles player alongside Martina Hingis. Anecdotes from her personal life, including her love story with Pakistan cricketer Shoaib Malik, will also be documented in the autobiography.
However, probably the most intriguing part of the book will be the accounts of the several ups and downs Sania has gone through, to reach this stage in tennis. The 29-year-old had won the Wimbledon Girls' Doubles title at the age of 16, before calling quits to her singles career in early 2013, after undergoing three surgeries.
"I hope the book is a useful roadmap to guide the next generation of tennis players from India," said Sania to the Press Trust of India. "If my story can inspire even one youngster to the heights of winning a Grand Slam in the future, I will feel blessed."
Along with Swiss sensation Hingis, Sania won the Wimbledon 2015 women's doubles title, the US Open 2015 women's doubles title as well as the Australian Open 2016 women's double title to solidify their numero uno position at the WTA doubles rankings.
A former Arjuna Award winner, Sania was also honoured with the Padma Bhushan award by the government of India, earlier this year.
"Sania's is an extraordinary achievement and her autobiography ['Aces Against Odds'] is as compelling as it is inspirational," mentioned Karthika VK, publisher and chief editor at HarperCollins. "We are privileged to be able to work with her on the book."
Sania, meanwhile, is also a U.N. Women Goodwill Ambassador for South Asia. Like British actress Emma Watson, the tennis star also campaigns for the 'HeForShe' campaign — the U.N. Women's Solidarity Movement for Gender Equality.