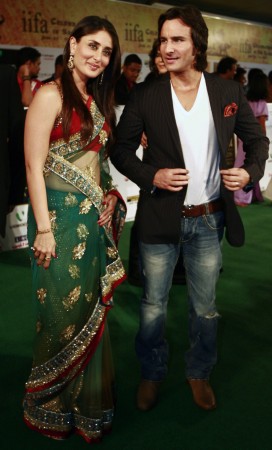 Saif and Kareen's much awaited Bollywood wedding continues to baffle the media, with latest reports suggesting that the "Heroine" star may be having second thoughts about tying the knot with her beau.
Earlier, Saif's mother Sharmila Tagore put to rest all the confusion and rumours surrounding the wedding, stating that the marriage will "definitely take place in October".
Kareena remarked that it's completely up to Saif to decide when and where the wedding will take place. During the recent launch of the first look of her upcoming movie "Heroine", Kareena told reporters: "We should just wait for Saif to give an official announcement on the date. Right now I am focusing on my film."
The mystery deepened more as the couple is not willing to disclose any details about their wedding.
In an earlier interview with Press Trust of India, Saif said that the wedding will take place at the end of the year. "It is going to be a year-end wedding. We haven't fixed a date for the wedding yet."
On the other hand, Sharmila Tagore told reporters that the wedding will take place in October.
"I am giving a warning to Saif. I am confirming that the wedding will take place on October 16," she told Mid Day. "If later on they want they can do the nikaah."
Meanwhile, a tabloid cited a source as saying that Kareena is giving top priority to her career.
"According to sources, the actress, whose Heroine is set to release on her birthday, September 21, believes she is at her career-peak. She has signed on a few other big banner projects, one of them with younger Imran Khan and she is not prepared to concede any ground to her rivals who are hot at her heels," Mumbai Mirror reported.
"Especially after Bhansali's biting remark that "no married heroine" can be his Juliet, Kareena and Saif decided, it was better to focus on her career right now. In fact, sources close to the couple say they were concerned that the wedding may alter the quality of projects offered to her. And Saif, being the understanding partner that he is, did not want her to compromise," a source told the tabloid.
Considering all the confusion surrounding the much-awaited wedding, it seems that fans will have to wait a little longer before the duo may decide to get hitched.