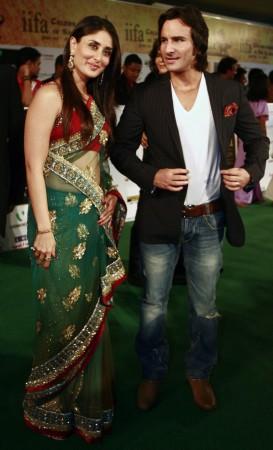 Bollywood's impending nuptials between actors Saif and Kareena is due to take place this October 16 and preparations for the big day are already underway.
Though the two busy actors have remained tight-lipped about their wedding plans until now, the couple is apparently in the process of wrapping up their shooting schedules in order to begin the wedding preparations.
According to the latest buzz, the soon-to-be-bride has already decided on her bridal wear. Since the wedding ceremony is supposed to be in traditional Pataudi style, Kareena has decided to wear the heavily embellished bridal sharara that mother-in-law Sharmila Tagore had worn for her own wedding.
"She (Kareena) will wear my joda as it is," yesteryears' Sharmila Tagore confirmed, adding that the sharara will not modernized.
Surprisingly, the fashionable actress will wear the 43-year-old sharaha as it is and without any modifications.
"Nothing (in the bridal dress) is being contemporarised," Hindustan Times quoted Tagore as saying.
Since, the wedding dress has already been decided, grapevine has it that the task of designing other bridal costumes will be shared between celebrity designer Manish Malhotra and Ritu Kumar. It is believed that the jewelry will be designed by Rajkot-based Kruti Jewelers.
Well, though the actress with follow the Pataudi tradition by wearing Tagore's bridal dress, she will neither change her name, nor convert her religion to Islam after marriage.
Her beau Saif also made it clear in a recent interview with a daily that Kareena will not have to change anything to marry him.
"I would never want her (Kareena) to change her religion," Saif told Mail Today. "That is the trouble with religion really... it expects conversion. I don't buy or believe that."
"I think it's good that the government, too, has - unless I'm misinformed about the law amended to include it in the Special Marriage Act. If and when we do get married, no one has to change his or her religion," he added.
Saifs's mother and sister both confirmed the wedding dates. The low-key October wedding will take place at Khan's ancestral home, the royal Pataudi Palace in Haryana, while the Kapoor household will be staying in Gurgaon during the two-day ceremonies. Only close family members and friends will attend the wedding.
Click here for more on Saif and Karrena's wedding.