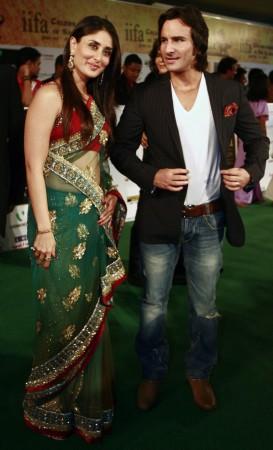 Rumours are abuzz that Bollywood's hot couple, Saifeena, is all set to get hitched by mid October this year, and finally the official nod has come from the actor's mother herself.
Saif's mother and yesteryear Bollywood actress Sharmila Tagore confirmed that the wedding is on the card for October 16, this year.
"Yes, that's the date we have decided upon. There will be a reception too, but not a very big one," IBNLive quoted her as saying.
After five-years of romance, that blossomed nearly the same time in October 2007, the duo has finally decided to settle down and start a family.
It would be Kareena's first and Saif's second wedding, as he was previously married to Amrita Singh, with whom he has two children Sara and Ibrahim.
The low key October wedding, as told by a source close to the family, will take place at the royal Pataudi Palace in Haryana, while the Kapoor household will be staying in Gurgaon during the two-day ceremonies.
"Mansoor Ali Khan Pataudi died only recently, so the family wanted a low-key wedding. Kareena and her family agreed, too," the source told the news channel. "However, there may be a large reception bash after the wedding, considering both Saif and Kareena have many friends in the film industry."
The wedding at Khan's ancestral home will be attended by couple' family members, a few close friends from the industry and Saif's cousins from Pakistan.
According to the source, a few cricketer friends of Saif's father Tiger Pataudi, who was the former captain of Indian Cricket Team, are also expected to be on the guest list of the high-profile wedding along with a few former foreign ministers from Pakistan.
The source also revealed that the duo will not fly for honeymoon immediately after the wedding due to their professional commitments.
Bebo is presently filming for her upcoming film, "Race 2" with her beau Saif in Turkey, then she has Madhur Bhandarkar's "Heroin" followed by Sanjay Leela Vhansali's upcoming film "Ram Leela."
"The honeymoon will have to wait. Kareena has no intentions of letting her films suffer after marriage," the source said.
More than a decade old in Bollywood, Kareena is the eye candy for almost all prominent production houses. However, the taste of stardom has made the actress quite selective in the kind films she takes up and the number of films she does in a year.
The source close to Sharmila Tagore told the channel that Kareena will have other responsibilities after marrying the Nawab of Pataudi but will continue to act in films.
"Sharmila's best innings as an actress started after marriage. Saif was a baby on the sets of one of her best films, "Aradhana". Kareena will follow her footsteps. After marriage, she will do two films a year," the source said.
The official announcement from the couple is still awaited.