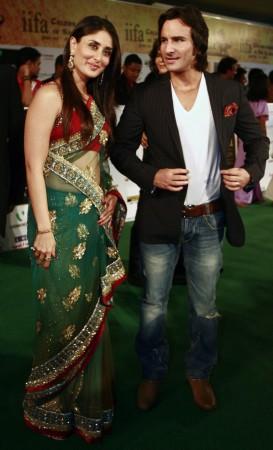 While Aishwarya Rai refused to make her comeback in Farah Khan's "Happy New Year" for not being cast opposite her hubby Abhishek Bachchan, another star couple - Kareena Kapoor and Saif Ali Khan - decided otherwise. The pair made it clear they were not interested in sharing screen space anymore.
Saif claimed that their chemistry goes flat when they are cast opposite each. "It's something that happens to me when I'm working with her, I'm not as interesting on screen," he told The Times of India.
"I become like how I am when I am with her, which is not interesting. Normally, an actor is competitive, and that makes for good chemistry on screen. The chemistry goes a bit flat when you're too comfortable."
Ever since Kareena and Saif tied the knot in October, there were speculations that they would be paired together for another film. But, putting an end to the rumours, Saif announced that his next project will star "Barfi" fame Ileana D'Cruz.
Saif also said that if he were to be cats opposite Kareena, audiences would be more interested in knowing about their relationship than the film itself.
"It's really difficult to maintain your identity as an individual when you're in a relationship like ours. People are constantly asking you about your relationship. You're promoting your film and someone asks you about the relationship and that answer is made into the headline," said Saif.
Saif and Kareena had done a couple of films together such as "Kurbaan" and "Tashaan". They first shared screen space in JP Dutta's "LOC: Kargil". They were also seen together in several advertisements for Airtel and Head & Shoulders.