Saif Ali Khan Arrested, Gets Bail
Saif Ali Khan was arrested Wednesday after a guest at the Taj Hotel in Mumbai registered a case of assault against the actor, accusing him of punching him in the nose.
Later, he was granted bail.
The incident broke out Tuesday night when the actor got into an argument with complainant Iqbal Sharmi while the 41-year-old actor was dining with his girlfriend Kareena Kapoor, actresses Malaika Arora Khan and Amrita Arora Ladak.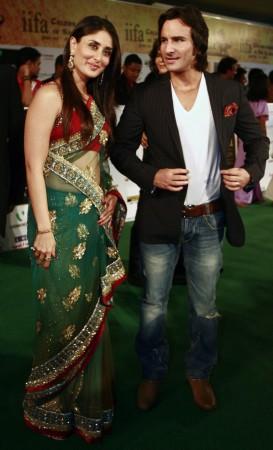 Jodi Breakers in Bangalore

Actors Bipasha Basu, R Madhavan and Omi Vaidya were in Bangalore Wednesday to promote their upcoming flick "Jodi Breakers".
After the promotion event at Bangalore's Forum shopping mall, Bipasha Basu tweeted along with a photo: "Forum mall n Coupon mall bth were packed with d lovely ppl of Bengaluru! Thank u all, for your love!"