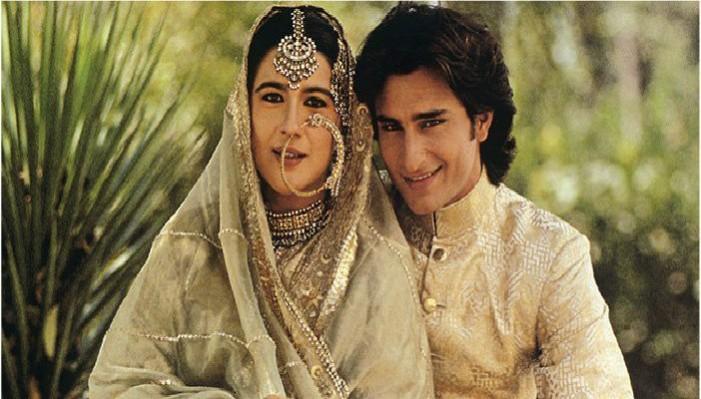 An old photo of Saif Ali Khan and his former wife Amrita Singh is doing the rounds on social media. The memes surrounding their wedding picture would make even Kareen Kapoor Khan laugh.
The viral picture has Saif and Amrita posing in traditional wedding attire. While both of them looked adorable in the photo, it is Amrita's nose ring that grabbed the most attention.
The yesteryear actress is seen wearing a huge nose ring that became the butt of all trolls. Some are comparing the nose ring's size with their friend circle, while some others are comparing it with Saif's Bollywood career. Some are even making fun of their age difference.
Social media is a strange world as many a time old photos start trending out of the blue. Just a few days back, an old photoshoot picture of Ranveer Singh and Deepika Padukone had gone viral on social media.
The picture had shown the rumoured couple kissing each other. The picture was reportedly clicked during a photoshoot for Vogue in 2015. The photo was hot enough for the duo's fans, who could not keep calm seeing Ranveer and Deepika locking lips.
Now, check the old viral photo of Saif and Amrita that is making all the noise on social media, and the trolls that followed.
On a very harsh note, her nath is bigger than Saif's career!!!

— NEHA SINGH (@nehasinghjazz) August 21, 2017
Amrita Singh nose ring is bigger than the IQ of Rahul Gandhi.

— thatguyinlove! (@137ume) August 21, 2017
I thought it was the keychain ring of Pataudi Palace.

— Janardhanan S?? (@MadCapProf) August 22, 2017