Uttar Pradesh's Yogi Adityanath-led government has been scrambling to diffuse the situation in violence-hit Saharanpur which is witnessing continuing incidents of atrocities against lower-caste community, particularly Dalits. While the Union Home Ministry sent 400 riot-control policement to the affected region on Thursday, the State government has called the incidents a "well-planned conspiracy."
The UP government, however, has held out hope that a new team of district officers in the region would succeed in restoring normalcy in the district within 24 hours. Yogi Adityanath administration on Wednesday suspended Saharanpur District Magistrate NP Singh and Senior Superintendent of Police SS Dubey in an attempt to contain the law and order situation. The State government has also imposed Section 144 of the IPC in the district and blocked internet, messaging and social media services.
The UP government further blamed Bahujan Samaj Party (BSP) chief Mayawati's visit to Shabbirpur this week for stoking the violence. Shabbirpur village has become the hotbed of clashes between Dalits and Thakurs or Rajputs, which led to the death of a Dalit man earlier this month. The State government also said that Chandrashekhar Azad of a local Dalit outfit Bhim Sena would be arrested soon, in association with the violence in the region.
Saharanpur has made headlines through the month for brutality against lower caste members, especially Dalits. More than 2,000 members of a community had allegedly gheraoed a village in Saharanpur earlier this month, and set fire to more than two dozen houses belonging to Dalits. The houses were torched in retaliation to a clash which broke out during a commemorative rally.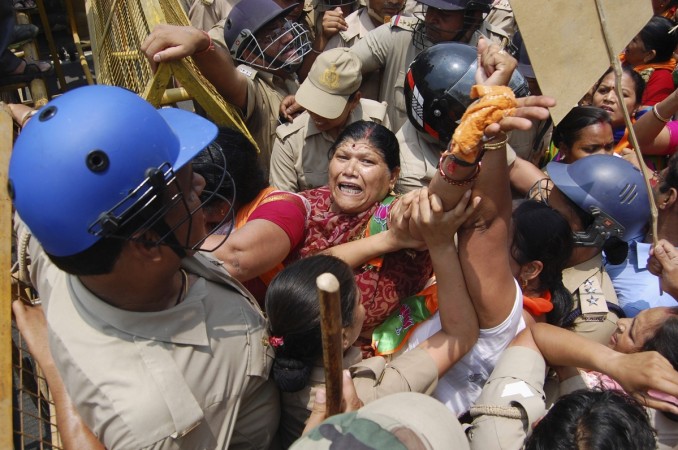 UP Home Secretary Mani Prasad Mishra on Thursday said that the clashed in Saharanpur have intermittently reported over the past few years. However, he conceded that the incidents had not attained the magnitude that was witnessed over the last month, beginning from April 20.
"Since April 20 violence, the intensity of such incidents has been on a rise and some where it has been felt that there was something lacking in the police administration," Mishra said. The home secretary said that the situation will likely become normal in 24 hours with a new team of officials in place.
More than 40 people have been arrested in the Sahranpur violence so far this month, Union Home Ministry officials said.