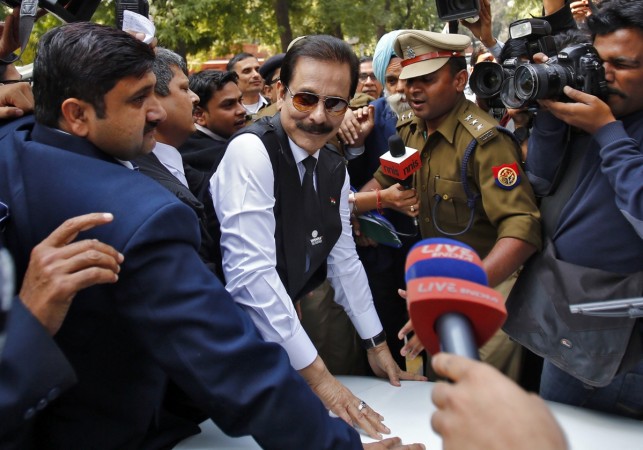 The Supreme Court on Friday decided to reconsider sending Sahara chief Subrata Roy back to Tihar Jail after he apologised to the court for the behaviour of Rajeev Dhawan, one of his lawyers.
The court has stayed Roy's arrest until September 30 and will hear his plea for extension of parole on September 28.
Senior lawyer Kapil Sibal, who represents Roy and came to court especially to plead for the extension of parole, conveyed the Sahara chief's apology to the apex court.
"It was an ad hoc arrangement and he went beyond his brief. Whatever statements he made were uncalled for," Sibal told the court.
"One can't browbeat the court and throw your weight around. It is also painful for us. It is not we demand respect but the system," Chief Justice TS Thakur, who headed the bench, said. He added that he would talk to the other two judges on the bench and then reconsider withdrawing the earlier order cancelling Roy's parole.
Roy was supposed to be sent back to Tihar Jail after the Supreme Court revoked his parole on Friday due to wrong statements on property status submitted by the Sahara Group.
Roy's lawyer had requested the apex court for further extension of the parole.
However, the court got angry when market regulator SEBI informed that the property in auction list provided by the group could not be sold because the properties have already been attached by the Income Tax department.
Therefore, the SC denied Roy's request for extension of the parole saying, "You (Mr Roy) are going back to jail."
The Sahara Group was asked to deposit Rs 300 crore if it wanted Roy's bail to be extended. However, Roy's lawyer Dhawan said it wasn't possible and requested for a September 30 hearing.
The court had in May 2016 extended the parole till September 23 following the death of Roy's mother.
Roy was out on parole after spending two years in Delhi's Tihar Jail following a dispute with SEBI.
The SC had earlier asked the Sahara Group to disclose its sources through which it was able to raise Rs 25,000 crore and also pay its investors in cash, according to local media reports. It said that it was "difficult to digest" because such a large amount of money "cannot fall from the heavens."
Two other directors of the group were also sent to jail along with Roy on March 4, 2014 after they failed to abide by the court's order to deposit more than Rs 24,000 crore to SEBI in August 2012. The money was collected from around three crore investors through issuance of certain bonds with 15 percent interest.
Sahara had raised Rs 24,000 crore through its two group companies in 2008-2009 through optionally fully convertible debentures (OFCDs), India Today reported.