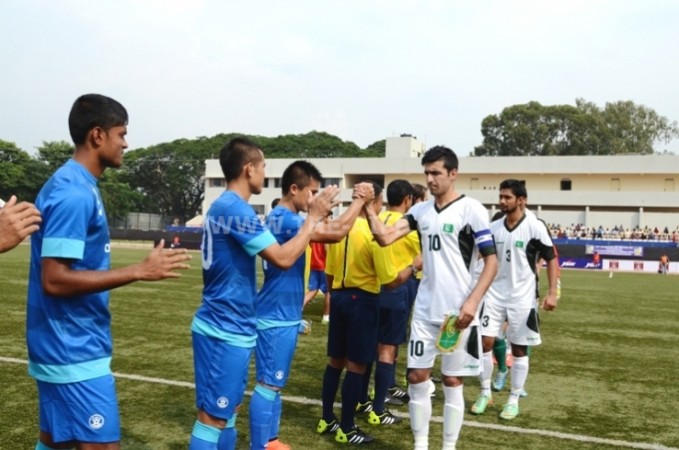 In what is definitely a big blow to Indian football fans, the clash between India and Pakistan at the SAFF Championship 2015 next month is not going to happen.
The South Asian Football Federation (SAFF) has confirmed that the Pakistan Football Federation (PFF) has said it will not send its team to the crucial Asian football event scheduled to take place in Kerala from 23 December.
Stephen Constantine's side were scheduled to meet their neighbours on the inaugural day; India are grouped alongside Nepal, Pakistan, and Sri Lanka.
"I received an e-mail yesterday from the PFF saying it is withdrawing the Pakistan team from the SAFF Championship," SAFF general secretary, Anwarul Haque Helal, was quoted by NDTV as saying.
Helal added that there was no official explanation by the PFF behind the sudden decision. While on the face of it, one may think that the decision was influenced by politics, it is believed that the controversial elections at the PFF may have prompted the decision.
The Lahore High Court, as reported, has put a stop on the country's footballing activities temporarily, and according to the country's newspaper, the Dawn, group-ism within the PFF and power struggle have been identified as the main reasons behind the court order.
The Pakistan Football team did not participate in the SAFF U-16 Championship in Sylhet, the SAFF U-19 Championship in Nepal, as well as the AFC U-21 Championship in Dhaka this year.
The fate of the proposed Indo-Pak bilateral cricket series next month is already uncertain, and now comes the news of the football teams not facing each other. Pakistan's withdraw from the tournament signifies the SAFF Championship this year will be a seven-team affair.
While Group A will now feature only India, Sri Lanka, and Nepal, Group B will feature defending champions Afghanistan, besides Maldives, Bangladesh and Bhutan.