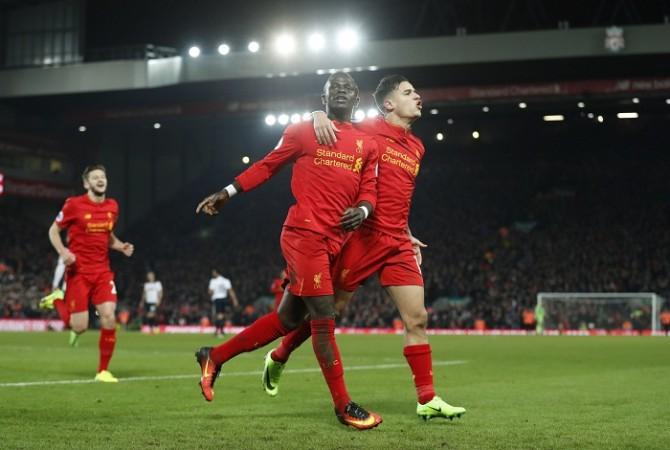 Liverpool finally registered their first win of 2017 in the Premier League as they defeated Tottenham 2-0 as Sadio Mane, who Liverpool had been clearly missing since he went to play in the AFCON, scored two goals in quick succession in the first half to give Liverpool all three points.
Also read: Antoine Griezmann to snub Manchester United if they fail to qualify for Champions League
Until their win against Tottenham, Liverpool had won only one game in 2017 against Plymouth Argyle in their FA Cup match and suffered defeats against the likes of Swansea City and Hull City and that certainly ended their title hopes but now they have most likely ended Tottenham's hopes of catching Chelsea too.
It was all Liverpool for most part of the first half and Liverpool looked threatening as soon as the match got going.
The first goal of the match came in the 16th minute and with Tottenham playing such a high defensive line offering Liverpool a lot of space to run, Georginio Wijnaldum was able to find Mane and after he went past the Tottenham defence he had only Hugo Lloris to beat and he did so with a deft finish to give Liverpool the lead.
The second goal came within a matter of minutes as after Eric Dier was caught in possession of the ball by Mane and after Philippe Coutinho and Roberto Firmino both had their chances saved by Lloris, Mane was once again at the right place at the right time as he fired the ball into the roof of the goal to make it 2-0.
Tottenham did have a chance to get a goal back before the half-time break as Son Heung-min brought a save from Simon Mignolet and Christian Eriksen shot too high from a free kick. Tottenham just could not find their rhythm in this game as they could not get Harry Kane and Dele Alli into the game at all and their full backs too were not as threatening as they usually are.
The closest Tottenham came in the second half was when Harry Kane hit the a post from an off-side position and there were times Liverpool showed their dominance on the ball as they passed for fun and as the match progressed, Tottenham's frustration grew as Kane and Alli both fouled Nathaniel Clyne in quick succession.
Later as Emre Can came on, Eric Dier welcomed him with a really bad challenge seeing him booked and then Toby Alderweireld also got his name taken as he brought down Firmino while racing into the area.
With this win, Liverpool have climbed to fourth in the Premier League table but if Manchester City defeat Bournemouth on Monday night, they could drop down to fifth and as for Chelsea, they face Burnley and if they win, they will be 12 points ahead of the second place team, putting them at a big advantage to grab the Premier League title.