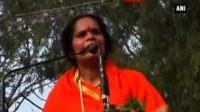 Bharatiya Janata Party's Sadhvi Prachi has stoked fresh controversy in an embarassing defence of an earlier statement in which she had asked Hindu women to have four kids.
At a VHP rally in Badaun in Uttar Pradesh on Sunday, she said: "These people who have 35-40 puppies, they are spreading love jihad...I made a statement and it created a nationwide uproar, the media also started saying 'Sadhviji you have created an uproar with your four kids comment,' But I tell them, I only asked people to give birth to four kids, not like I asked them to have forty puppies," said Prachi, according to ABP News Bureau.
She didn't stop at that and invited Shahi Imam Bukhari and Samajwadi Party leader Azam Khan for ghar wapsi', saying "centuries back their ancestor was Ram."
The BJP is clearly upset about her remarks. Its UP chief Laxmikant Bajpai told reporters that such remarks won't be tolerated and that he would personally speak to her on her remarks.
She also criticised All India Majlis-e-Ittehadul Muslimeen leader Asaduddin Owaisi for his comment that all kids are born Muslims and had her own riposte to him. "Every child born in India is a Hindu. Owaisi's father was born in India, and is also a Hindu. If Owaisi cannot accept Hindu identity, he must move to Pakistan," she said.
Prachi's remarks come despite Prime Minister Narendra Modi repeatedly asking party members to refrain from making such statements that can be construed as indicative of the party's Hindutva agenda by opposition parties.