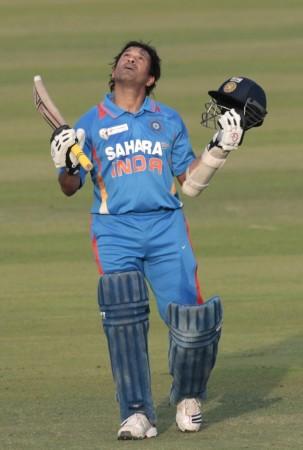 Congratulatory messages have been pouring in from all quarters ever since Sachin Tendulkar scored his historic 100th century Friday and Indian politicians, cutting across the party lines, have come out in unison to congratulate the Little Master.
Prime Minister Manmohan Singh congratulated Sachin on completing the feat.
"I join the nation in congratulating Sachin Tendulkar on his making history - a hundred centuries. He has made India proud. Tendulkar's long career has been a triumph of class, character and courage. Wish him many more innings and feats to continue inspiring the youth," he said.
Union Agriculture Minister Sharad Pawar, who is also the President of International Cricket Council (ICC), has sent a letter to Sachin that reads:
"My heartiest Congratulations to you on reaching the 100th International Century. You have made India and the game of cricket proud in accomplishing this milestone. Your achievement speaks volume for your dedication to this great game. I am sure your illustrious career will be written in golden letters in the history of cricket and will serve as beacon of inspiration for many generations of cricketers to follow. My best wishes to you and hope you will continue to chase your dreams in the times to come."
Ajay Maken, Union Minister of State for Youth Affairs & Sports, said: "It is a big big achievement and Sachin has created a history and India is proud to have a player like Sachin Tendulkar. I would like to congratulate him. We all are proud of him."
"You are the pride of India and play more for the country," wrote Trinamool Congress party supremo and Chief Minister of West Bengal Mamata Banerjee in an SMS to Sachin.
"Moment of pride! Heartiest congratulations to Sachin for his 100th century, a historic achievement," tweeted Gujarat Chief Minister Narendra Modi.
Jammu and Kashmir Chief Minister Omar Abdullah also greeted Tendulkar on reaching the milestone. "Well done Sachin," he tweeted.
"Stupendous achievement by @sachin_rt. Each of those last 5 singles was run amid mounting tension. Now, a nation rejoices. Cricket wins," tweeted Shashi Tharoor, an MP from Kerala.