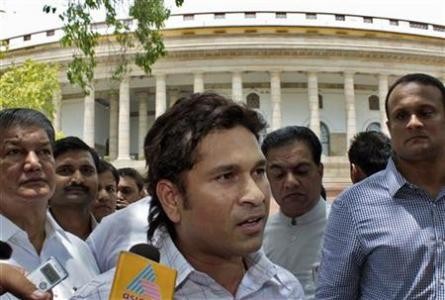 After India's smashing victory in the second Test match against Australia, ace cricketer Sachin Tendulkar flew down to Hyderabad to inaugurate the Gastrointestinal and Liver Foundation for Research & Treatment of Cancers (GIFT) on Tuesday.
The centre instituted by doctors from India and the USA aims to focus on gastrointestinal cancer (GI), one of the deadliest forms of cancer having high mortality rates.
Dr D Nageshwar Reddy and Dr Prateek Sharma are the key persons behind the thoughtful initiative.
Sachin launching the facility spoke on the noble idea. "I think it's named appropriately, GIFT. I think the greatest gift someone can get from doctors is life. I don't think there is anything more valuable than that. Hopefully there will be more smiling faces with the help of this foundation," PTI quoted him as saying.
Accompanying Sachin was former test cricketer VVS Laxman who released a book on GI cancer awareness. Laxman lauding the heathcare facility said," "We need more awareness and with the legend himself here (Reddy), I wish the message is spread to the nook and corner of the country," reported The New Indian Express.
Meanwhile, Dr Reddy said that the centre aspired to cover rural parts of Andhra Pradesh along with towns and cities.
Dr Sharma added that the rapidly increasing GI cancer claims about 2, 00,000 lives every year and majority succumb due to failure of early detection of the disease. "There is no prevention programme. The incidence of GI cancers far outnumbers lung and breast cancer combined in developing countries," he told The Times of India.