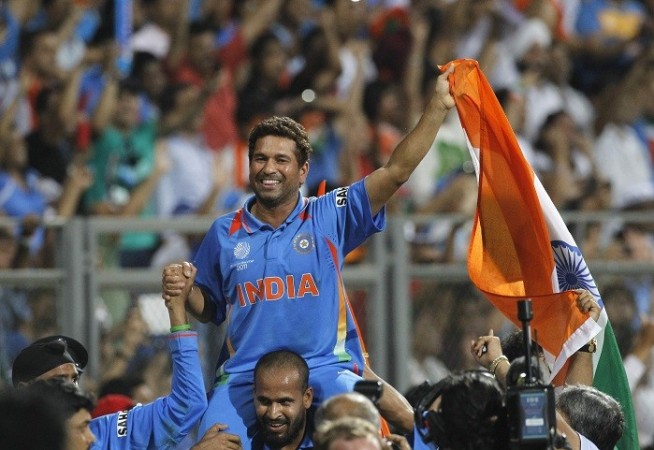 An Indian team without Sachin Tendulkar, has always been a scary thought. To imagine the Little Master not walking up to take guard at No.4 in an Indian Test team will take some time getting used to.
With Tendulkar announcing his retirement from cricket after his 200th Test, the inevitable, which you refused to believe would ever happen, is going to be a reality.
Perhaps, the fact that the Indian fans have now seen their team play without the maestro in the one-dayers and T20 internationals, seeing him not being a part of any team would ease the shock a little bit.
However, say what you may, irrespective of the form that Tendulkar has shown over the past year or so, it will be a strange feeling when India plays a Test match without Tendulkar in its side - no Sachin, no Dravid, no Ganguly - the ultimate triumvirate is almost done and dusted.
More than enough has been written about Tendulkar's batting record - the highest run-getter in both Tests and ODIs, 100 international hundreds, with 51 in Tests and 49 in one-dayers, first man to hit a double hundred in ODIs, the list goes on and on.
There is little doubt that when it comes to figures and statistics, there are very few, if any, that can stand up to the little big man.
However Tendulkar was much, much more than just about the statistics.
During the 1990s, he carried this Indian team on his shoulders all on his own; every single Indian fan wanted India to win every single game that they played in and the onus was always on Sachin to carry his side through.
Rarely has he been bogged down by the pressure; instead taking it in his stride and making himself into a better player. Some of the all-time Test and one-day innings have come from that massive blade of his - which bore the MRF mark for so long, before Adidas took over.
There is nobody even remotely close to him when it comes to the one-day records - in that form of the game, Sachin Tendulkar stands on his own.
However, that doesn't mean he is not the greatest modern-day Test cricketer to ever grace the game. Widely considered as the greatest batsman to play the wonderfully nuanced sport of cricket after the great Sir Donald Bradman, Tendulkar will walk out with the biggest support ever thrown upon a single man -probably in the entire world.
Right from when he began his career in that now famous Test match against Pakistan in Karachi in 1989, Tendulkar has been an icon unparalleled. Worshipped and adored, loved and never loathed, a billion and more holding their breath prior to every single ball he faced, before letting out a huge sigh, and more often than not a roar after seeing that wooden sword make contact in style.
The fans made peace with Tendulkar never really making himself available for T20 cricket. Hey, there were still the one-dayers and Tests. Then when he retired from ODIs, the format he has absolutely dominated, it was: well, there are still the Tests - the ultimate format of the game.
Now, when Tendulkar walks into the sunset - towards a dusk reserved for only him, because he is that special - the fans of cricket will not have anything to fall back on; just the memories, the oh so fabulous memories of a little guy, becoming the biggest giant of the sport bar none; of those stunning innings which have made the mouth go "wow" a few times; of those stunning strokes through the covers and the patented straight drive - the greatest shot to watch; of a tiny little man making the big, burly fast bowlers sweat harder than a school kid before writing his/her final exams.
Memories aplenty, but before that a couple more as Tendulkar prepares for his 199th and 200th Test - may it be the best ever from the Master Blaster yet.