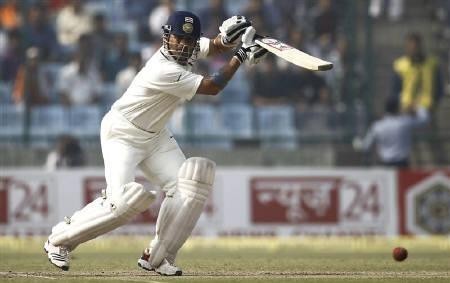 Sachin Tendulkar is undoubtedly the most successful and decorated player in the modern era of cricket. The man from Maharashtra has added more records to his name than any other player to have ever played the sport. So when he announced his retirement from all forms of cricket on Thursday, his enviable statistics once gain found the spotlight.
However, there are some major records the legend failed to surpass or even match during his 24-year Test career. Let us take a look at some of those numbers which did not go well for Tendulkar, as he draws the curtains on his illustrious career.
Triple Century: Tendulkar has failed to score a triple century in his Test career, despite playing 327 innings. His highest score remains 248 not out against minnows Bangladesh in Dhaka back in 2004. Among Tendulkar's contemporaries, Brian Lara, Chris Gayle and Virender Sehwag have done it twice, while Sanath Jayasuriya, Inzamam-ul-Haq, Matthew Hayden, Michael Clarke, Mahela Jayawardene, Younis Khan and Hashim Amla have all scored one triple ton each.
Two Centuries in the Same Test: The Master Blaster is yet to score hundreds in each innings of a Test match. Sunil Gavaskar and Ricky Ponting have done it three times in their careers, while George Headley, Sir Clyde Walcott, Allan Border, Greg Chapell and Hayden have all done so twice.
Average: Tendulkar is only 12th in the list of highest averages for Test matches (among cricketers who played at least 40 Tests). The 40-year-old averages 53.86 per innings, while his contemporaries Kumar Sangakkara and Jacques Kallis are well above him, with figures of 56.98 and 56.10 from 200 and 272 innings, respectively.
Most Runs in a Calendar Year: Despite playing Test cricket for 24 years, theIndian is only fifth in the list of most runs scored in a calendar year. Tendulkar had scored 1562 runs from 23 innings, at an average of 78.10 in 2010, while his second best was 1392 runs from 26 innings at an average of 55.68, a decade ago. Mohammad Yosuf leads the table with 1788 runs from 19 innings at a spectacular average of 99.33 [in 2006], while Graeme Smith and Clarke also find themselves above Tendulkar on the list.
Captaincy Record: In the 26 Test matches that Tendulkar captained India, he has won just four times, with a win percentage of just 16. Meanwhile, Ponting and Smith have win percentages of 62.3 and 49 from 77 and 102 games, respectively. Tendulkar's captaincy record falls short among his compatriots as well, with Sourav Ganguly and MS Dhoni boasting win percentages of 42.8 and 51 from 49 and 47 matches, respectively. Even Mohammad Azharuddin and Rahul Dravid have a better success percentage of 29.78 and 32, from 47 and 25 outings as skippers.
Also, Tendular is joint-fourth in the list of most ducks (among specialist batsmen who played at least 100 Tests). He has been dismissed 14 times, before opening his account, with just Steve Waugh (22), Lara (17) and Ponting (17) above him on the list.