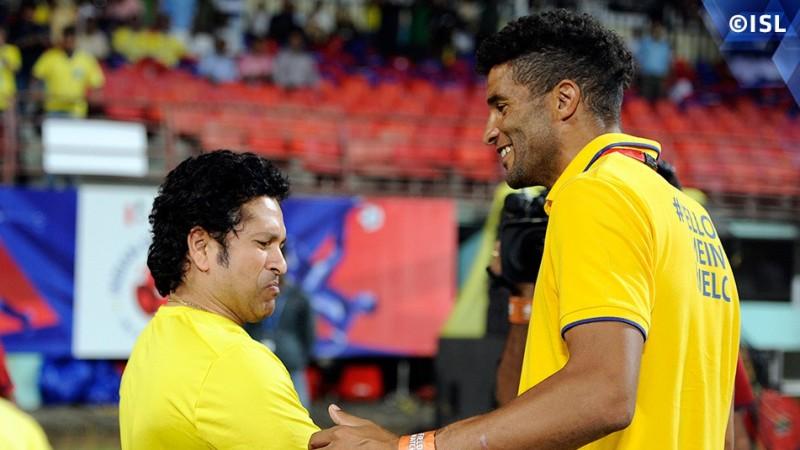 Kerala Blasters co-owner Sachin Tendulkar has stated that he is not worried about results or trophies and only wants the team to continue winning the hearts of football fans around the globe.
Blasters are currently fifth in the ISL table, with just one match remaining for the team in the group stages. The Kochi-based outfit still has a good chance of qualifying for the semifinals but after being held to a 0-0 draw at home by Northeast United on Thursday, their fate is not entirely in their hands.
Tendulkar pointed out that as a sportsman he only wants the team to play well, give their best in every match and earn the support of the fans. The rest - in his words - "will take care of itself".
"The important thing is to give your best and the results will take care of itself. I am a sportsman I understand what a player feels and thinks. There are times when you play good football but others will play better. That is fine with me. I want the Blasters to win the hearts of football fans. And I think they are doing exactly that," The Times of India quoted the veteran as saying.
The Blasters saw fans turning up in big numbers for all their home matches. Tendulkar has now thanked the crowd for their support throughout the tournament but insisted that he was not surprised as he knew football enjoys immense following in Kerala.
"I am overwhelmed but not surprised. I knew football is big here and people are passionate about the sport and it reflects when the entire stadium is supporting the team and are made to feel special," the 41-year-old said.
"But that feeling is something that can't be taken for granted and we have to play well to get that support consistently. But I would like to thank everyone for the support and love they have extended to Blasters."
Tendulkar also stressed that the Blasters have plans to promote more young talents from within Kerala, and make the state a big player in the national scene yet again.
"We will look to encourage footballers from Kerala in the days ahead," the cricket legend added. "The home team has to look for local and regional options. It would be a proud moment when more players from Kerala play for Blasters.
"Earlier, Kerala had many players who were playing for India. Now that is not the case. Our endeavour is to start that cycle again."