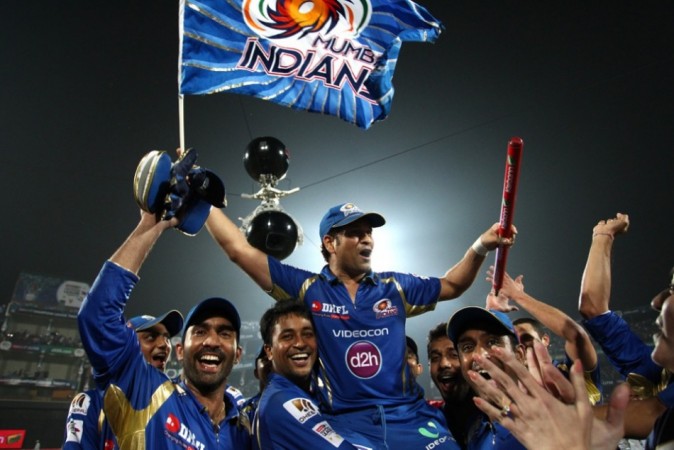 After being a part of the No.1 Test side in the world, then winning the 50-over World Cup and also taking the IPL title, the Champions League T20 crown was the icing on the marvellous never-seen-before cake for Sachin Tendulkar.
The Little Master ended his T20 career, and indeed one in coloured clothing, in the best possible manner, with another piece of silverware added to his collection, after the Mumbai Indians toppled the Rajasthan Royals in an epic CLT20 final in Delhi.
"To win the IPL and then the CLT20 in the same year is a special thing," Tendulkar told Champions League T20's official website. "When the IPL season started, we wanted to win it so bad. The team has done beautifully since then and the end result has been fantastic.
"The dream was to be part of the No.1 Test team in the world, then win the World Cup, the IPL and the CLT20. All those dreams have been accomplished now."
It was also a special day for Rahul Dravid, the man who has been with Tendulkar through the thick and thin of Indian cricket over the past 15 years or so, with the Royals skipper playing his final competitive game of any kind on Sunday night.
"The least I can say about Rahul is that he is a true champion," Tendulkar said. "He has been a terrific and world-class player -- one of the best I have played with and against.
"The first time I met him was when I captained him in the Wills Trophy. Since then it has been a privilege for not only me but the entire world to watch Rahul perform so brilliantly on a consistent basis.
"I just want to congratulate Rahul for a wonderful career that he's had and I wish his family all the very best. I am sure there are many more wonderful things that will happen in his life."
Tendulkar bids adieu to IPL and franchise cricket as a player, but asked whether he would continue being a part of the Mumbai Indians' set up, the Little Master was as vague as he could be.
"As of now, I don't know (what I will be doing)," he added. "We've just won this tournament and I want to enjoy this moment. There are still good six months and I am sure something will come along till then.
"I am actually looking forward to the next season because I have been part of MI for six years now and it has been an experience I have really enjoyed."