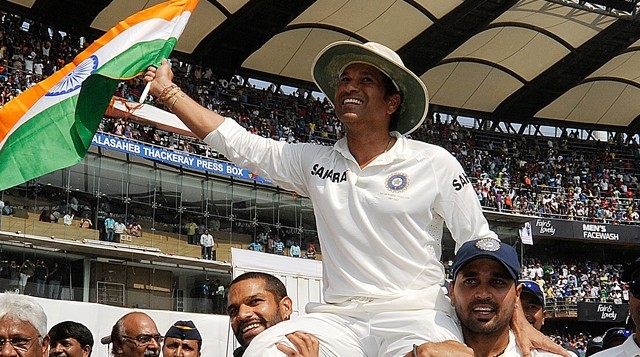 Sachin Tendulkar and expectations, of basically the entire nation, have gone hand-in-hand for the past 24 years. And while the Little Master might have performed seamlessly on most occasions under tremendous pressure, the Indian legend admitted he did find it difficult at times to cope with the stress.
Tendulkar said, winning the 2011 World Cup, though, remained his crowning moment, after so many near-misses.
"It's difficult to live up to people's expectations. There comes a time that you have to figure out what is it that I am capable of, what is it that I want for myself... my dream was to win the World Cup for India," Tendulkar told CNN. "We came very close to winning in 2003, we lost in the finals.
"I thought there was another chance for us in 1996 when we lost in the semis. And finally in Mumbai, the World Cup was actually in my hands and that is what I wanted. When that actually turned into reality, life was different."
Tendulkar has never been a training freak, and the 40-year-old, who retired last week from cricket after his 200th Test match, said he found it difficult to train.
"I believed I could just pick up the bat and I should not worry about running laps and all that," he said. "I didn't really enjoy doing all those things but I knew that without all those things there was no survival. I had to do it so [I would] just run for the heck of it.
After all, Tendulkar usually spent so much time out in the middle wielding his magical wand of a bat, that he would have more than enough exercise running across the 22 yards of the pitch time and again.
"I always thought that, you know, if I'm running then I should be scoring runs," he added. "If I'm not scoring runs then what's the point of running? So I thought playing different sports was the best form of training because I like playing tennis, I like playing badminton.
"I like playing table tennis, a bit of football. You know, all those things and while doing that, if I'm running I don't mind."
Tendulkar admitted to being overwhelmed by the outpouring of emotions from the fans after his announcement that he would retire from cricket following the second Test against the West Indies in Mumbai.
"I think from the time I announced my retirement on October 10, things have been different," he said. "Wherever I went people wanted to express their feelings about me and say thank you very much for whatever you have done for the nation."