Popular American weekly Time Magazine has named legendary cricket batsman Sachin Tendulkar as its 'Person of the Moment'
"He is the Greatest. Sportsman. Ever. Cricket legend Tendulkar has broken all the records there are to break and done so beautifully. He has scored over 34,000 runs in a career spanning more than two decades, during which he has consistently brought his A-game, having never once been dropped from his country's Test side (its most elite cricket team). There isn't another athlete who can match that," the magazine said on its website.
The 40-year-old batsman will retire from cricket after playing his 200th Test match against West Indies in Mumbai, Maharashtra. Sachin was dismissed after scoring 74 runs during the first innings on Friday.
"India's top cricket player, Sachin Tendulkar, is regarded one of the greatest batsman of all time. The only player to score 100 international centuries, Tendulkar leaves the sport as the greatest player of his generation," the magazine said.

Sachin appeared in the magazine's 21 May issue last year with the phrase 'The God of Cricket' emboldened on the cover page. "Every time he scored a hundred runs (known in cricket as a century), the hopes of a billion people took flight. In the words of Indian poet, CP Surendran, when Tendulkar walked out to bat, "a whole nation, tatters and all, marched with him to the battle arena,"" Time said.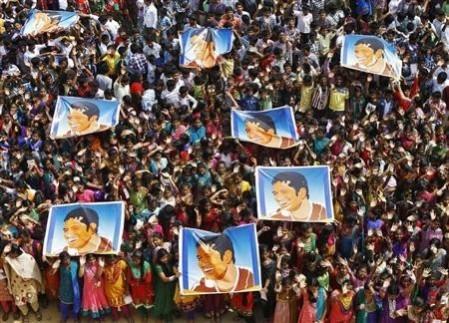 The Time website also features a special article on Sachin's 10 greatest moments, including his first 100 in 1990 against England, and the match against Australia in 2001 when he became the first player to score 10,000 runs in the one-day format.
The innumerable records and milestones set by Tendulkar during his 24-year cricketing career would be hard to surpass, said the magazine.
"I thank you all from the bottom of my heart for 24 years of support. Hope you guys liked my messages," Sachin had posted on micro-blogging site Twitter.