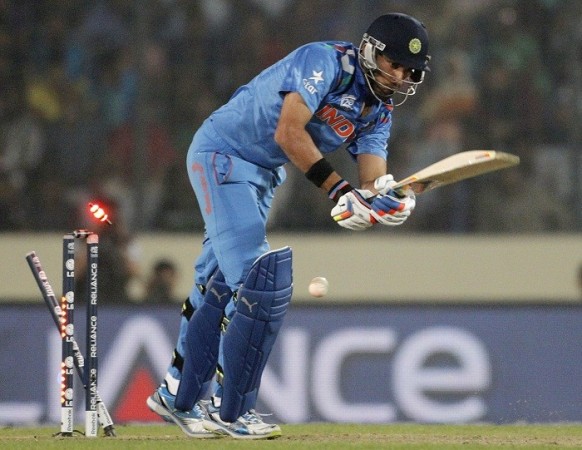 Winning every single match till the final and going down the way they did in the ultimate challenge, India were bound to draw criticism. They were reduced to zeroes from heroes overnight. No one better than Sachin Tendulkar knows what a roller coaster ride Indian cricket can be. The master blaster urged fans to calm down and support the team when it needs them the most.
Tendulkar defended Yuvraj Singh saying his 21-ball 11 in the final against Sri Lanka on Sunday was no reason to hold him solely responsible for losing the World T20 title in Bangladesh. The legendary batsman also reminded fans of all the useful contributions from Yuvraj in the past that has helped India win matches. The southpaw has created unforgettable moments in world events - especially the six sixes off Stuart Broad's bowling in the 2007 World T20 in South Africa and a Man of the Series performance in the 2011 50-over World Cup held in the subcontinent -- both the tournaments India went on to win.
"It is the unpredictable nature of the game that makes cricket such an exciting sport," Tendulkar said on his official Facebook page. "As cricketers, we always enjoy the applause when we succeed but it is the support and encouragement from fans, during tough times, that we appreciate the most.
"All of us took pride in the heroics of Yuvi when we won the T20 World Cup in 2007 and his outstanding contribution in the ODI World Cup win in 2011 will always be cherished."
Tendulkar echoed MS Dhoni's thoughts on Yuvraj's innings saying it was just an off day for the batsman. "Yuvi, one off day cannot undermine your tremendous contribution in many sweet memories over the years," Tendulkar's message to Yuvraj read. "You may be down today but you are far from being out."
While understanding the fans' ire towards Yuvraj, Tendulkar implored the supporters to keep things in perspective.
"Yuvi had a tough day and he can be criticized. But he should not be crucified nor should he be written off," the experienced voice of Tendulkar spoke. "I have been an admirer of Yuvi's indomitable spirit which has overcome many challenges, both on and off the field. Knowing Yuvi's determination and ability to fight adversities, he will emerge stronger, proving his critics wrong, yet again."
Meanwhile, teammate Harbhajan Singh, who is currently out of the reckoning for an India place, also backed Yuvraj and lauded the player's previous contributions.
"It is shocking to see everyone blame Yuvi," Harbhajan said. "He has won India two World Cup's on his own. He is one of the rare match-winners that India has produced. From the Natwest final to the 2007 World T20 to the 2011 50-over World Cup, find me a player who has done so much in big matches. One bad day and we become so bitter.
"Let's not forget he was not there alone. There were 10 others too and we should admit that a better team won. It's a team sport and we shouldn't make Yuvraj the scapegoat."