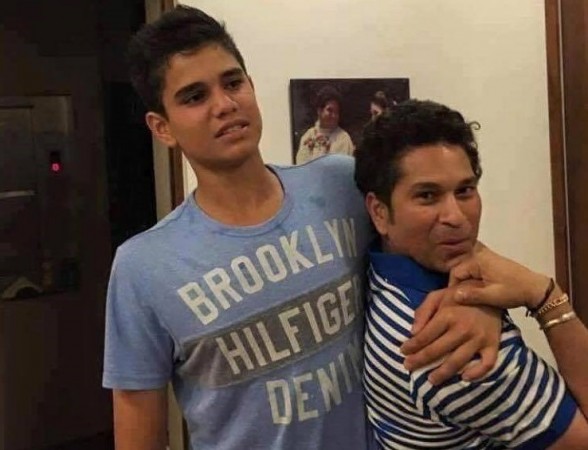 Arjun Tendulkar, the son of legendary cricketer Sachin Tendulkar has become a hot topic of discussion among social media users after a photo of the 17-year-old with his father surfaced online on September 24. The image, shared on the Facebook page Circle of Cricket India on the birthday of Arjun, quickly went viral on social media.
But, why is this particular image hitting the headlines? The photo has gone viral after social media users spotted his stunning resemblance with the popular pop singer Justin Bieber. The netizens are now going crazy calling the Canadian singing sensation and the upcoming young cricketer as twins.
Now the followers of Bieber in India calls Arjun as "Indian Justin Bieber" and they have been using other photos of the duo to draw more similarities between them.
"Before reading that caption i was like why is justin Bieber holding sachin tendulakar like that ....wait okay [sic]," writes a social media user, who got confused with the photo. "Is it only me who before seeing d full pic n caption, thought that Arjun Tendulkar is JUSTIN BIEBER? I thought why is sachin clicking pics with#JB? [sic]," asks another.
Check out social media responses here:
Arun Ashokkumar
Doesnt arjun tendulkar look like justin beiber? The resemblance is like uncanny!
SHASHANK Pawar ‏
Is Sachin Tendulkar Hugging Son Arjun Tendulkar or Justin Bieber? You decide
-
Arun Srinivasan
Is it just me or does Arjun Tendulkar have a stunning resemblance to Justin Beiber?
-