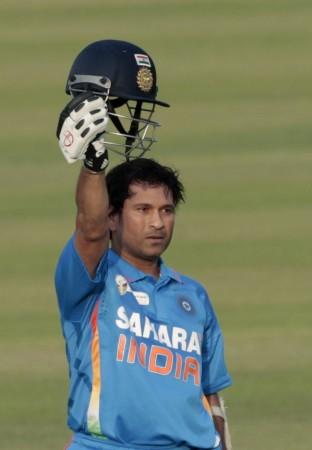 Indian cricketer Sachin Tendulkar will officially become the first active sportsperson to become a member of parliament (MP) soon. The Little Master has accepted the Rajya Sabha nomination proposed by the Congress party.
The Home Ministry recommended cricketer Sachin Tendulkar, Bollywood actress Rekha and industrialist Anu Agha for the Rajya Sabha after Prime Minister Manmohan Singh wrote a letter to the ministry to nominate them under the President's quota.
The President of India has accepted the nomination of Tendulkar and Rekha and Anu Agha.
The nomination of Tendulkar, who recently scored his hundredth international century, has been welcomed by both politicians and the Board of Control for Cricket in India (BCCI).
BJP leader Ravi Shankar Prasad welcomed Tendulkar's nomination, saying that he would devote some time to Parliament.
"Currently seat number 100 in Rajya S is Ashok Ganguly fmr Chairman HLL. He just told me he'll move to a nearby seat and give @sachin_rt 100," tweeted Trinamool MP Derek O'Brien, referring to the hundredth international century Tendulkar scored recently.
57-year-old Rekha is a Bollywood actress, who also has been nominated to the Rajya Sabha, has won the national award for her role in "Umrao Jaan" and a recipient of the Padma Shri.
The other nominee, Anu Aga was a well-known industrialist. She took up social work after her retirement in 2004. She was awarded the Padma Shri in 2010 and is currently chairperson of Teach for India.
Article 80 of the Indian constitution says that the President can nominate twelve members to the Rajya Sabha and the persons should have special knowledge or practical experience in respect of various fields like literature, science, art and social service.