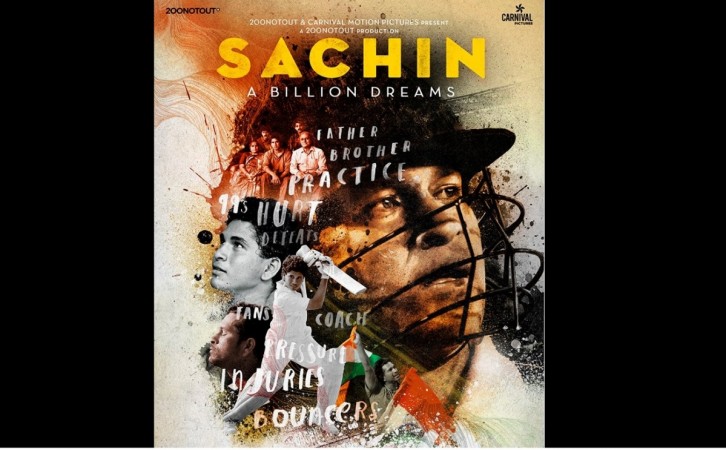 Sachin: A Billion Dreams is set to hit the theatres on Friday, May 26, and ahead of the film's release, Sachin Tendulkar, on whose life the movie is based, held a special screening for the Bollywood industry as well as cricket fraternity. The movie has received positive reviews from Bollywood critics.
Sachin: A Billion Dreams: 300 children auditioned to play young Sachin Tendulkar
A large section of Bollywood critics are heaping praises on makers. They claim that Sachin, who made his acting debut with the film, has done a commendable job. The movie is engaging throughout as it narrates the extraordinary career of the legend and also focuses on the batsman's personal life, which is a treat to his fans.
Sachin: A Billion Dreams also feature Sachin's son Arjun Tendulkar.
Ever since the first look and teaser of the film was revealed last year, millions of fans of Sachin as well as celebrities like Shah Rukh Khan, Virender Sehwag and Virat Kohli have expressed their eagerness to watch the film. The movie is expected to shatter box office records.
The trailer itself has received 23 million views on YouTube. Watch the trailer of Sachin: A Billion Dreams below, if you haven't already.
Produced by Ravi Bhagchandka and Carnival Motion Pictures, Sachin: A Billion Dreams is directed by James Erskine while its music has been composed by AR Rahman.
Below are Bollywood critics' review of Sachin: A Billion Dream:
Anita Iyer of Khaleej Times said: "Sachin: A Billion Dreams will make you feel patriotic in places and it is one of those films that make you leave the theaters with a smile. What makes the movie endearing is a peek into his private life like his love story, footage from his wedding, the birth of his two children and the special bond he shares with his father. So, do yourself a favour and watch the movie this weekend. We promise you - your 2 hours, 20 minutes will be totally worth it."
Sreeju Sudhakaran of Bollywood Life said: "Sachin: A Billion Dreams is a movie strictly for cricket fans. But then that's the entire country, including yours truly. This is easily the best movie on cricket, and whether you are a Sachin fan or not, you will find tears flowing through the sides of your cheeks at the end of the film. Sachin: A Billion Dreams is highly recommended. Just make sure you cheer with the rest of the audience ...Sachin...Sachin...!"
Meena Iyer of the Times of India said: "It's a treat to get a peek into Sachin's childhood. And it's also a fan-shriek moment to see footage of him in his personal space, looped to Dire Straits and Bappi Lahiri with his wife Anjali, his children—Arjun and Sara, his family and friends. The fact that Sachin is the sutradhar(narrator)who walks the viewer through his victories and injuries is an additional bonus. But, wait there's a flip side too. Most controversies around the cricketing God are glossed over."
Rohit Bhatnagar of Asian Age said: "Overall, it is a good watch but at the end, it's a documentary which is a compilation of his real-life footages. The idea of promoting it as a film is a little weird. It is like any other documentary made on several sportspersons that are available online. Or perhaps it's Sachin's vast popularity across the globe that the director thought of the idea of making it."
Rediff.com said: "The writers Siva Ananth, Sandeep Srivastava and Ajit Bhure weave so beautifully a tale which includes real footage from Sachin's childhood, his timeless innings, the dressing room stories and so much more. The footage from his wedding is adorable to watch. And to get a glimpse into the father that he is, simply melts your heart."
Raja Sen of NDTV said: "Director James Erskine clunkily strings together a greatest-hits narrative by numbers, with a constantly swelling background score, too many reverential voices and zero contrarians. There are moments treated as asides which deserved a lot more room, like Tendulkar's take on the match-fixing scandal, and the film has a terrific shot of Mohammad Azharuddin looking on while Sachin busily signs autographs."
Stay tuned for more updates.